Acquitted Colonies Crossroads defendant vows to keep battling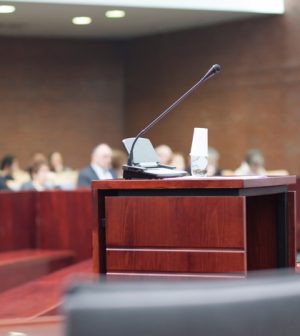 "I've stood up to bullies all of my life," said developer Jeff Burum, who was found not guilty of all charges, along with two other defendants . "This time the government was the bully."
One of three defendants acquitted lasted month in the Colonies Crossroads corruption trial says he plans to devote much of his time to making sure no one else ever goes through the kind of ordeal he endured.
Rancho Cucamonga developer Jeff Burum accused the San Bernardino County District Attorney's office of using strong-arm and sometimes unlawful tactics in its pursuit of him and his three co-defendants, former Supervisor Paul Biane, former County Assessor James Erwin and Mark Kirk, former chief of staff to one-time Supervisor Gary Ovitt.
"I'm a developer, and I always will be a developer, but from now on I'm going to do whatever I can to make sure this never happens again," Burum said eight days after the verdicts were handed down. "I can hold legal seminars where we can talk about the importance of due process, maybe help get legislation passed. Because no one should have to go through what we went through.
"The trial was politically motivated from the start. From the start, they blurred the evidence and lied about everything. The verdicts proved that."

Burum, Biane and Kirk were acquitted Aug. 28 of multiple bribery, conflict of interest and improper influence charges in connection with the development of Colonies Crossroads and Colonies at San Antonio, the 434-acre retail and residential development next to the Foothill Freeway in Upland.
Burum was a co-partner in Colonies Crossroads LP, the group of investors that developed both projects.
Following an eight-month trial before Superior Court Judge Michael A. Smith, jurors deliberated two and a half days before voting not guilty on each of the remaining 11 charges.
Erwin was tried by a separate jury, which met for four days last week without reaching a decision. It is scheduled to resume its deliberations today. The district attorney's office has said it will not comment on either trial until Erwin's jury reaches a decision.
The original 29-count indictment was handed down in May 2011. San Bernardino County District Attorney Mike Ramos and Gov. Jerry Brown called the case the biggest corruption trial in the history of San Bernardino County, if not all of California.
All four defendants were accused of engaging in an illegal plot to get a $102 million settlement out of the county Board of Supervisors.
That settlement, reached November 2006, determined which entity would make improvements to a flood control channel on the Colonies Crossroads property. The settlement ended a five-year legal battle and made possible the development of Colonies Crossroads.
Prosecutors charged that the $400,000 in contributions that Burum made to political action committees after the settlement were bribes made to get a favorable settlement out of the board of supervisors.
Those committees, which prosecutors alleged were scam operations, were connected to the three defendants and Bill Postmus, a former supervisor who entered a plea agreement and later testified during the trial.
In retrospect, the case – which was tried by the District Attorney and the state Attorney General's office – was on shaky ground from the start.
Before testimony began, Smith dismissed a conspiracy charge that was vital to the prosecution's case. Ultimately, he would throw out 17 other criminal counts, meaning more than half the original case was gone by the time it reached the jury.
Also, defense attorneys called no witnesses, meaning they were confident the prosecution failed to prove its case.
From the start, all four defendants maintained their innocence and said the charges against them were politically motivated.
On the first point, at least, jurors agreed: several said the prosecution presented no evidence that any of the accused committed a crime.
But the acquittals don't change the fact that the defendants were put through a terrible ordeal, one that violated their constitutional right to a swift and speedy trial.
"This went on for seven years," Burum said. "No one should have to wait seven years to defend themselves in court. There were bankruptcies and lost jobs, and our families were hurt. It's hard to quantify what happened. I've stood up to bullies all of my life, and this time the government was the bully."
Some have speculated that the three acquitted defendants – and Erwin, if he is found not guilty – might sue the county, either for civil rights violations, recovery of legal costs, or both.
But such a move would be costly and probably have little chance succeeding, said Ralph Rossum, professor of American Constitutionalism at Claremont McKenna College.
"Courts are reluctant to go after prosecutors because, if they did, the prosecutors might become reluctant to do their jobs," Rossum said. "It would be difficult to do, for obvious reasons. But I'm glad the trial turned out the way it did. I think the jury made the right decision.
None of the defendants have discussed filing a lawsuit.
"That's something the four of us would have to decide, and as long as Jim [Erwin] is on trial, I don't think it's right to speculate," Burum said. "Considering what happened in our trial, I think the case against him should be dropped. I don't see how they could get a conviction, and if they did it would be overturned."