Another Nordstrom Rack is coming to the IE.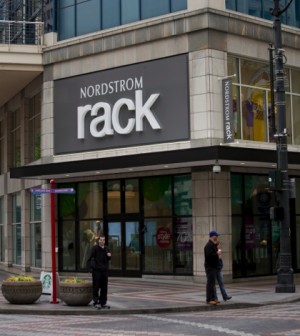 Seattle-based Nordstrom Inc. announced Thursday that it will open one of its discount stores at Mountain Grove, a retail project that is under construction next to Citrus Plaza, according to a statement.
Mountain Grover is being developed by Majestic Realty in the City of Industry, which also developed Citrus Plaza, a power center that opened in 2003. Both projects are in an unincorporated parcel, the "donut hole," which is within Redlands' borders but is not part of the city.
Nordstrom Rack will cover about 35,000 square feet and will open next spring when Mountain Grove opens, said Tom Cozzolini, vice president with Majestic Realty.
"It's a great addition to our tenant mix," Cozzolini said of Mountain Grove, which has already secured leases from T.J. Maxx, HomeGoods, Buybuy Baby and Tilly's for its first phase. "Nordstrom Rack sells a quality product, and it will add another dynamic to shopping in the area."
Nordstrom Rack, the off-price division on Nordstrom, currently operates stores at Chino Spectrum Town Centre, Ontario Mills, the Commons at Temecula, Colonies Crossroads in Upland and Riverside Plaza. It sells merchandise from Nordstrom stores at discounts of 30 to 70 percent.
Mountain Grove is being built at the crossing of the Foothill Freeway and Interstate 10. It will cover about 450,000 square feet and will be next door to Citrus Plaza, which includes Target, Bed, Bath and Beyond, Kohls and Petco.