Anti-Development Efforts Hold Back Job-Creating Solar Project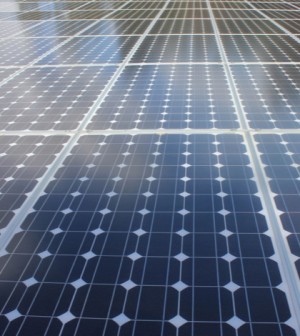 A clean energy company is continuing its fight to build a job-creating solar power generation facility on 23 acres in unincorporated Apple Valley. Clean Focus Corporation was denied its conditional use permit request via a 3-0 vote by the San Bernardino County Planning Commissioners on June 19, and is appealing that decision in front of the Board of Supervisors on August 5th.
The commission's vote was at the recommendation of the San Bernardino County Land Use Services Department, which claimed that the project would not allow for "adequate separation from developing rural communities." The location, which is on the southeast corner of Central and Tussing Ranch roads, is outside the town of Apple Valley's municipal boundary; it is bordered by power lines on one side, and railroad tracks on the other.
Who is Behind the Opposition?
A handful of "impacted residents" in Apple Valley, along with a grassroots group that organizes anti-development campaigns in desert communities, are behind the movement to stop the project from moving forward.
The uphill battle for Clean Focus began in June 2013, when the San Bernardino County Board of Supervisors voted for a moratorium on new solar developments in the county. The suspension was originally set for a duration of 45 days, and was later extended to a full 10 months. It applies only to commercial-scale solar power facilities in the county's unincorporated areas.
Supervisors adopted an updated ordinance in January that takes city planning codes into account for solar projects that are not in the city limits but are located within the city's sphere of influence which in the case of Apple Valley is much larger than the city itself. The town of Apple Valley recently changed its building code to allow commercial solar projects in only two locations within the city. This precedent would create a de-facto ban on solar projects like this throughout the region if interpreted, and held up by the full Board of Supervisors in the way it is currently being interpreted.
Clean Focus: Project Would Reduce Blackouts
The Clean Focus project was intended to be the manifestation of a Power Purchase Agreement contract with Southern California Edison, designed to provide solar power that would lighten the load of the region's burdened electrical grid. According to Clean Focus executive vice president of project development Matt Coleman, homeowners opposed to the effort fail to take into account that the entire region could benefit from a more stable electrical grid.
"This project is different than most power projects," he said. "We're connecting to the distribution grid, which means the energy will be used within San Bernardino County. Because we're a small project, it's going to be used only in the county; we can be sure that the electricity that will be generated is not going to Los Angeles." He also points to the benefit of fewer blackouts, which is especially a problem in summer throughout the region.
If the project were to go forward, Coleman estimates that residents in Apple Valley and surrounding communities would experience tangible advantages from a more stable power grid. "We're going to be providing renewable electricity as well as grid stability," he said. "Because we're producing locally, if a power line goes down miles away, we can still have energy flowing in this local area. It will also help provide price stability for the next 20 years as we reduce our dependency on electricity from natural gas."
Economist: Project Will Help Electricity Providers Comply with New State Energy Law
Jay Prag, a local economist and macroeconomics professor at Claremont Graduate University's Drucker School of Management, believes that the Clean Focus project is essential in light of new changes to state energy law.
"Current California law requires that one-third of the electricity used within our state be produced using renewable energy by 2020," he said. "I think these plants have to be built somewhere because of the 2020 law, and they have to be built close to where people live because of technology."
Prag believes that entrepreneurial solar power producers like Clean Focus should only be viewed positively in a state where lawmakers are obsessed with green initiatives. "It's clean technology, and the company has done a great deal to put it in a fairly empty spot anyway. This seems like a slam dunk," he said.
According to Prag, holding back solar projects means California will eventually need to purchase power from as far away as Oregon or Canada. "If we don't increase power generation closer to the end user, we'll be paying the cost of generating out-of-state power – plus the transmission loss," he said.
He also believes that the project will provide a much-needed boost to a community that is suffering from low employment. "This project is going to bring long term jobs for maintenance and construction to the area, not to mention tax revenue – what's not to like? Apple Valley has unemployment that exceeds the state level at nine percent, last I looked. It's a no brainer that you would want the jobs."
Labor Expert: Project Promotes Job Creation
Richard Sierra, president of the Local 783 chapter of Laborers International Union of North America, agrees. Of the 61 union members that live near the Apple Valley site, "Several have experience in the renewable energy space," he said. He states that these members have worked on similar solar utility and electrical generating projects in other rural areas, and notes that the delay of the Clean Focus project has been devastating to those who are hoping to be hired at the Apple Valley site. "This project will be four to five months in duration, and it's probably going to employ 50 to 60 of our members," he said. "I have 250-300 members registered on the out-of-work list. They're waiting to go to work."
Sierra also points out that all members hired for the Clean Focus project would be hyper-local, starting with those based a few miles from the site. "People that have their names registered on the Victorville list will get called first," he said. "Once we complete that list, we would go into Barstow and San Bernardino. They're all local hires."
The short duration of the construction period is irrelevant to the skilled laborers, Sierra says. "For us, ensuring project pipeline – whether it's a week, a month or a year – is crucial," he said. "Our members have to work 100 hours a month in order to maintain their medical benefits for themselves and their families."
Sierra is among a growing number of local labor experts who recognize that anti-development efforts are preventing economic growth throughout the region. "These jobs – these are not living wage jobs," he said. "They are family sustainable jobs. We still have a long way to go for economic recovery, especially in the High Desert area – and this would be a great project, we feel."