Cal State SB commencement will be a milestone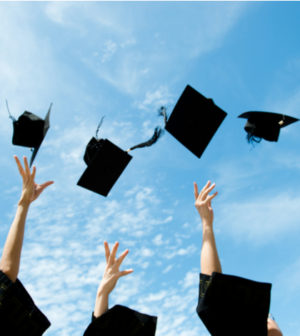 Cal State San Bernardino will top 100,000 graduates this week.
More than 3,500 students are expected to participate in the school's five commencement ceremonies on Thursday and Saturday, according to a statement.
Regardless of how many people choose to march down the aisle in their cap and gown, the university – one of 23 campuses in the California State University system – will reach six figures in graduates dating back to its founding in 1965.
"This is truly an amazing achievement for our university," Cal State San Bernardino President Tomas D. Morales said in the statement. This is an accomplishment that our students, faculty and staff as well as the communities that we serve should take great pride in.
"What makes this profoundly memorable and a credit to our region is that more than 80 percent of our students are the first in their families to attend college or receive a college degree."
The Palm Desert campus will hold its graduation ceremony at 6 p.m. Thursday at The Show at Agua Caliente Spa & Resort, 32-250 Bob Hope Drive, Rancho Mirage.
On Saturday, Cal State San Bernardino's five colleges will hold their  commencement ceremonies at Citizens Business Bank Arena, 4000 E. Ontario Center Parkway, in Ontario.
Ceremonies will be held at 8 a.m for the College of Social and Behavioral Sciences, noon for the College of Natural Sciences, 4 p.m. for the College of Arts and Letters and College of Education and 8 p.m. for the Jack H. Brown College of Business and Public Administration.