Carvana comes to Ontario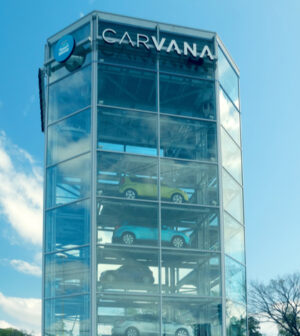 Carvana has opened a car vending machine in Ontario, the company's second operation of that kind in the greater Los Angeles area.
The structure, at 520 N. Turner Ave., is eight stories tall and holds 27 vehicles, according to a statement.
Founded in 2012, the Tempe-based Carvana is an online-only used car dealer. It eliminates the automobile agency by allowing customers to buy, sell, finance, trade-in or purchase a car on the company's website, www.carvana.com.
Once a purchase is completed, customers can either have their vehicle delivered to them or they can pick them up at one of Carvana's 21 vending machines. Buyers have seven days from the date of purchase to return the car.
The Ontario site is the second Carvana Car Vending Machine in California  – the other is in Westminster –  and the 21st in the U.S.  Carvana has stores in Tennessee, Texas, Florida, Maryland, Arizona, Ohio, Pennsylvania, Indiana, Illinois, Missouri and North Carolina, according to the statement.