Chino business doesn't build planes, but it keeps them in the air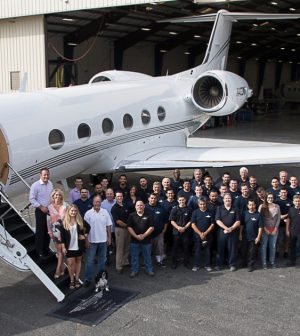 Threshold Aviation Group conducts business all over the world, but its roots are firmly planted in the Inland Empire.
The company that occupies 175,000 square feet of hangar and office space next to a 7,000-foot runway at Chino Airport scours the world looking for aircraft – mostly private jets used by businesses – to restore and sell, but it does all of its work at the airport.
"We definitely see ourselves as an All American company," said Doug Crowther, the company's director of business development. "We're all U.S. citizens, and that's something we're very proud of."
Founded in 1985, Threshold employs about 90 people and is one of the largest aircraft maintenance, service and management businesses in the United States.
It offers multiple services to its "business jet" clients, including hangar storage, a repair station approved by the Federal Aviation Administration and aircraft operations that are available 24 hours a day, seven days a week.
Threshold also offers rental cars, concierge services and, perhaps most of all, low-cost fuel for all forms of aircraft.
During the past 15 years, Threshold has purchased and restored more than 50 aircraft from around the world. Its fleet includes Gulfstreams, Falcons, Challengers, Lear Jets, Citations and 727-VIP Jet Aircraft.
"We don't make the planes but we refurbish them and get them ready to fly again," Crowther said. "Our clients know that we do a good job."
In January, Threshold announced it had reached an agreement to set up and training centers for pilots and mechanics at six airports in China. That arrangement – with a private company authorized by the Chinese government to develop airports – means Threshold will one day do in China what it does in the United States.
"In some ways we're an unusual company," Crowther said. "We get the job done, but there aren't many businesses that do what we do.'