Closure of Sears, Kmart stores has some malls scrambling to save space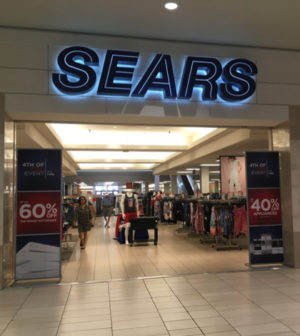 Unfortunately, there aren't as many anchor tenants as there used to be, and more people are shopping online, so some retail properties will have to get creative.
Some shopping malls in the Inland Empire – and much of the United States – will soon have some major retail space to fill, thanks to several iconic retailers that are vanishing from the retail landscape.
Earlier this month, TransformCo Holdco LLC, the company formed in February to buy some assets of Sears Holdings Inc. in the aftermath of that company's bankruptcy, announced it was closing 51 Sears and 45 Kmart stores nationwide by the end of next February. 
The Inland Empire will be hit particularly hard.
Seven Sears and one Kmart will shut down between now and Feb. 29. The Sears stores are at Inland Center Mall in San Bernardino, Montclair Plaza, Promenade Temecula, Moreno Valley Mall at Towngate, Westfied Palm Desert, Sears Riverside and The Mall of Victor Valley in Victorville
The Kmart, at 7840 Limonite Ave. in Jurupa Valley, is the only Kmart in Southern California scheduled to be closed.
Six other Sears stores in Southern California will also be shuttered: Three in Los Angeles County, and one each in Orange, San Diego and Ventura counties. 
Closure dates have not been announced. Going-out-of-business sales are expected to start in early December.
Sears stores in Hemet and Rancho Cucamonga reportedly will remain open, along with a Kmart in Big Bear Lake.
In its statement announcing the closings, TransformCo Holdco declared that since buying the Sears and Kmart properties, they have been forced to operate in a difficult and hyper-competitive retail environment, one that ultimately forced them to shut down 96 stores.
The company, which filed for bankruptcy in October 2018, will continue to operate 182 Sears and Kmart stores nationwide, helped by approximately $250 million in capital provided by a third-party investor. 
Meanwhile it will continue assessing its remaining properties, while mall owners throughout the United States scramble to replace an anchor tenant.
That's never been easy, and in an era that sees more brick-and-mortar going away and regional shopping malls slowly losing their appeal, it's even more difficult, said Robert Kleinhenz, an economic consultant based in Long Beach.
"Retail is changing so much that it might not be practical to replace those stores with conventional retail, at least not in every market," said Kleinhenz, who until recently was an economist with Beacon Economics in Los Angeles and the UC Riverside School of Business Center for Economic Forecasting and Development. "There aren't that many anchor tenants left. Malls are having to come up with different ways to fill space."
Thanks mostly to online shopping, malls are either having to reinvent themselves or they're shutting down. In 2017, Credit Suisse, an international bank that monitors all sectors of the global economy, predicted five years ago that 20 to 25 percent of all U.S. malls will close by 2022, a forecast it has not revised.
U.S. retailers closed approximately 102 million square feet of store space in 2017 and 155 million square feet last year, both records for one year, according to CoStar Group, which provides information and analytics on commercial property in North America and Europe.
That's a lot of space to fill, and some mall managers are coming up with unconventional ways to fill it, including health clubs, virtual reality theaters and stores with samples of products but no inventory: Shoppers order products on site, and the items are then delivered to them.
For a lot of malls, that might be the best way to approach replacing an anchor tenant, according to Kleinhenz.
"If I were advising the [Inland] malls that are losing Sears stores, I would tell them not think about doing it with conventional retail," Kleinhenz said. "There isn't enough traditional retail. When it comes to filling space, everyone in retail is having to shift gears."
Kleinhenz endorses what is called experiential retail, in which shopping becomes one part of a larger experience that might include working out at the health club, watching a movie or going to dinner. 
Mixing retail and entertainment isn't new, but the experiential approach raises the practice to a higher level. The idea is to provide more incentives for people to visit the property, and hope they shop there when they do so, Kleinhenz said.
"I think that would do well in the Inland Empire, because unemployment is low and people have money to spend," Kleinhenz said. "The Inland Empire is still a good retail market."
Inland Center Mall will have approximately 240,000 square foot of space to fill when the Sears store there is closed, but because the property is owned by an outside party, mall officials will have little say in what goes there, said Arun Parmar, the mall's senior property manager. "It's an original tenant, it opened with the mall in 1966, and we hate to see it go," Parmar said. "But I still think retail will work there. I know there's a trend away from conventional retail, but I think it would succeed if it's the right kind. The [Inland] retail market is not oversaturated."