Demolition of former Broadway in Montclair begins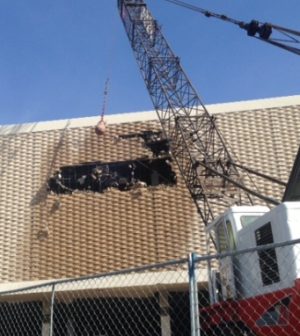 CIM Group
An estimated 250 people gathered Tuesday at Montclair Place to watch the start of demolition of the former Broadway building.
At about 9:35 a.m., a wrecking ball smashed into the side of the 154,000-square-foot building on the mall's east end, eliciting cheers, fireworks and multiple cell phone snapshots from the crowd assembled in the parking lot.
The demolition at the former Montclair Plaza is expected to take about two months. The building, which was part of the original mall when it opened in November 1968, will be replaced by a 12-screen AMC Dine-In Theater and mixed-use retail.
All of that is expected to open in 2019.
The mall, which has fallen on hard times during the past few years, is owned by CIM Group, Los Angeles-based real estate development and investment group.
The Broadway building was occupied by Macy's in 1996, five years after Broadway closed.
CIM Group, which is conducting a major renovation of the property, hosted a "demolition celebration" along with city officials and other local dignitaries.