Firefighters train at former auto dealership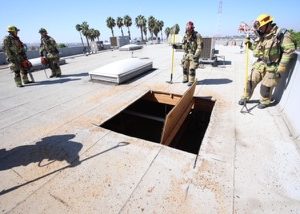 San Bernardino County Fire Department
Six members of the San Bernardino County Fire Department conducted training exercises Tuesday on the roof of an empty dealership at the San Bernardino Auto Center.
The session, which was expected to last about three hours, allowed the firefighters to work on opening vertical ventilators, said Capt. Greg Soria.
When a building catches fire, opening the structure's vertical ventilating system is crucial because it frees the smoke and makes it easier to extinguish the blaze.
"This is the best way to do this kind of training," Soria said. "It's better than our own facility. You don't get a chance to do this in a real building very often."
Cliff Cummings, owner of two dealerships at the auto center, also owns two vacant dealerships there. Earlier this summer, Cummings made both buildings available to the county fire department and the San Bernardino Police Department for training, free of charge.
Tuesday was the first time the fire department has used the building, Soria said.
Both structures are scheduled to be demolished as part a major reconfiguration of the auto center, which is next to Interstate 215, Cummings said last month.