High-end restaurant in Big Bear Lake hits the ground running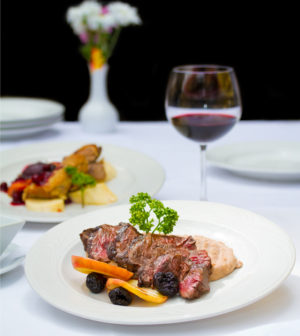 Seven months after it opened, Black Kat restaurant in Big Bear Lake is going strong.
Things are going so well that owner Dave Stone says he's expanding the 3,200-square foot facility at 560 Pine Knot Ave., and he's planning to open his fourth restaurant in the Big Bear market next year.
"I expect to make it past our first year," Stone said.
Stone, whose primary business is construction – he's the co-owner and chief executive officer of Superior Electrical, Mechanical & Plumbing Inc. in Rancho Cucamonga – spoke with IE Business Daily recently about Black Kat's first months in business, where his clientele is coming from and a very expensive bottle of wine.
Question: Sometimes, in a Q&A format, it's difficult to decide which question should go first, but not this time. Has anyone ordered your $10,000 bottle of wine?
Answer: No, not yet. A lot of people have looked at it, and a couple of them have come close to getting it, but they ended up buying a different bottle for $5,000.
Q: What kind of wine is it?
A:  Petrus, 1982. It's French. We have three bottles, and they're kept in a very safe place. One of them is at the restaurant and two of them are off-site.
Q: Do you expect to sell one eventually?
A:  Absolutely.
Q: Even if you're wealthy, that seems like a lot of money for one bottle of wine.
A: But there are people who do spend that much. Johnny Depp, the actor, spends a fortune on wine every month. Everyone has their own thing that they like to spend money on.
Q: Assuming it happens, that would seem like a monumental event. Will you do anything special, a small ceremony or celebration?
A:  No. We'll just take it to the table and open it, like any other bottle. Whoever buys it, I don't think they'll want a lot of attention.
Q: Black Kat opened seven months ago. Most restaurants don't last a year and some don't last as long as you have. Have things gone pretty well so far?
A: Its gone very well. I thought there was a place in Big Bear for a a high-end restaurant like Black Kat, and it looks like I was right. I can't talk about revenue or how many customers we're  getting a night, but I can tell you that we're expanding.
Q: By how much?
A: We're adding 1,200 square feet to our indoor dining area, which will get us to 4,400 square feet. That's supposed to be ready by the end of this month. At some point we're going to add to our outdoor area, where we have about 1,000 square feet. We're working on that. We've also hired a new chef, Pete Ghione. That should give you a  good idea of how things are going.
Q: How did that happen?
A: I was at the Venetian in Las Vegas, where Pete was working. He has a very clean, healthy style and I knew immediately that he could take the restaurant where I wanted it to go. It took me two years, but I finally got him.
Q: Your menu is mostly standard fare: steaks, seafood, pasta, salads. What is your new chef doing different?
A: Before we opened, I said I wanted a seasonal menu, meaning a menu that would change a little every few months and not be the same thing over and over. I didn't want the menu to get stale. Pete is taking us in that direction.
Q: Big Bear Lake is a tourist community, and when you opened there was some doubt that a restaurant like Black Kat would work in that sort of market. Do you feel like you've cleared that hurdle?
A: So far, yes. I think we're drawing at a rate of about 50-50. Fifty percent from the tourists, 50 percent from the local community.
Q: So do you think you will make it to one year?
A: Without a doubt.  I'm so confident that I'm working on another restaurant. I can't say that much about it except that it's not going to be another Black Kat. It's going to be more mid-market, which is something else we don't have up here. I expect it to open next summer.
Q: You're closed on Mondays and Tuesdays. Might you consider being open seven days a week?
A: I might, but for right now I'm comfortable with the schedule we're on now. It's enough to keep our people employed full-time, which is something I want to do. But at some point we could go to seven days a week.
Q: Can you talk about your monthly wine-tasting night?
A: We do it every third Wednesday. It's basically a private party, limited to 50 people. We serve a six-course dinner, with the whole evening devoted to one winemaker. We get a representative from the vineyard, the winemaker or somebody else, and everyone gets to interact.
Q: Was that your idea?
A: Yes. It's something people enjoy and it's a good way to promote the restaurant. The main thing was I wanted it to be intimate. I've been to some large wine tastings and they aren't as good. You get lost in them.
Q: Where do you expect Black Kat to be one year from now?
A: By then I hope I will have opened m new restaurant. And Black Kat will just keep going.