Holiday sales should be strong this year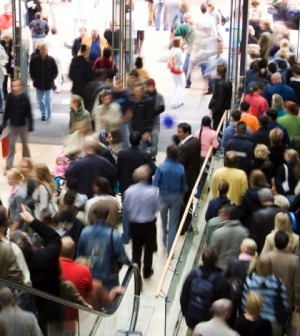 2017 should meet or exceed last year's performance, according to two major trade organizations.
If two of the largest and most influential retail trade groups in the United States are correct, retailers will like what they see during the upcoming holiday shopping season.
The National Retail Federation in Washington, D.C., is predicting that Christmas spending will increase between 3.6 to four percent this year, not counting expenditures on automobiles, gasoline and restaurants.
The non-profit organization  – whose members include department and specialty stores as well as Internet and independent retailers – says spending probably will total between $678.7 billion to $682 billion this year.
That would be up from the $655.8 billion that was spent last year. If that forecast is correct, holiday spending will either meet or exceed last year's year-over-year growth of 3.6 percent, as well as the 3.5 percent average during the last five years.
That prediction is based on several factors, including a relatively strong economy, low unemployment and 32 shopping days between Thanksgiving and Christmas, compared to 31 days last year.
"Our forecast reflects the very realistic steady momentum of the economy and overall strength of the industry," federation president and chief executive officer Matthew Shay said in a statement. "Although this year hasn't been perfect, especially with the recent devastating hurricanes, we believe that a longer shopping season and strong consumer confidence will deliver retailers a strong holiday season."
Strong, but nothing spectacular, especially when recalling that most retailers – many of whom rely on Christmas to push their business into the black for the year – expect a minimum of three percent growth during the holidays, even in a bad economy.
But the days of the early to mid-2000's, when holiday spending went up between five and six percent – 5.1 percent in 2003, 6.8 percent in 2004, 6.2 percent in 2005 – aren't coming back, at least not this year.
The country's other major retail trade association, the International Council of Shopping Centers in New York, is predicting for Christmas 2017 about what the retail federation is predicting: a 3.8 percent growth in retail sales compared with 2016, with consumers spending an average of $728.40 on gifts and other holiday-related items.
The council's annual Holiday Shopping Intentions Survey noted that, while online shopping continues to grow, U.S. consumers aren't yet finished with traditional brick-and-mortar stores: 96 percent of those surveyed said they expect to make a purchase this year from a retailer with a physical store and an online presence, while 91 percent said they will do their Christmas shopping at "physical locations."
Forty percent said they plan to buy items online and pick them up in a store, and 81 percent of those shoppers said they expect to make an additional purchase when collecting those items.
Sixty six percent said they plan to buy gift cards this year, while 54 percent said they will buy clothes/footwear, 46 percent toys/games and 37 percent electronic devices, according to the council.
"Consumers … are very optimistic this holiday season," said Tom McGee, the council's president and chief executive officer, in a statement. "Physical retail remains a cornerstone of the holiday season. The more agile retailers are in meeting consumers' demands [regarding] physical and digital shopping, the more success they will see."
There are other reasons to be optimistic about this year's Christmas shopping season.
First, a lot of people say the will start their shopping early this year, a sign that consumer confidence – perhaps the most important factor in determining whether or not people spend – remains strong. Sixty six percent of those surveyed by the council said they plan to start their holiday shopping by August.
Also, 46 percent said they expect to spend more on Christmas gifts this year than they did one year ago.
Consumers this year will likely see the usual deep discounts early in shopping season, starting with Black Friday, but whether that's enough to get them to keep coming back to the mall remains to be seen, said Terri Relf, senior marketing manager for Inland Center Mall in San Bernardino and the Mall of Victor Valley in Victorville.
"I expect to see a good Christmas at both of our locations," Relf said. "We had a good third quarter and a good year, and that usually means your Christmas season is will go well."
The forecasts by the retail federation and the council of shopping centers are probably accurate, said Jay Prag, professor of economics and finance at the Drucker School of Management at Claremont Graduate University,
"I made basically the same prediction they did in a speech I made not too long ago, and I'm sticking with it," Prag said. "It will be better than the last two years, which I think were muted somewhat because of concerns about the economy. I think people are a little more confident now."