Holiday shopping outlook is bright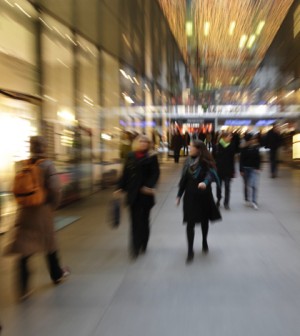 With low unemployment, spending should be solid this year, according to retailers and one local economist.
All signs point to a strong holiday shopping season in 2018.
The economy is strong, the stock market is performing reasonably well and unemployment is down. All of that means people will have money to spend when Black Friday arrives on Nov. 23, if not sooner.
"I'm seeing a lot of people with bags, and I'm seeing a lot of product moving out door," said Darryl Goodman, general manager of The Shoppes at Chino Hills, five weeks before the unofficial start of the Christmas shopping season.
Goodman declined to discuss sales figures – malls and stores seldom do – but he said this year feels strong, perhaps even stronger that 2017.
If he's right, 2018 will be a banner year. Holiday spending was up 5.5 percent last year compared with 2016, according to the National Retail Federation.
"You can tell there's a lot of pent up demand out there," Goodman said. "In the past few years I think people held off on their spending a little bit, but it doesn't feel like that's going to happen this year.
"I expect the malls to do well, and that gift cards and online shopping will go up, because they go up every year."
Two of the largest and most-watched retail trade groups in the United States are making similar forecasts.
The Washington, D.C.-based retail federation is predicting a minimum sales increase of 4.5 percent compared with 2017. That's an upward revision of the forecast it made earlier this year, which was an increase of 3.8 percent to 4.4 percent.
Most economists and retailers believe that retail spending at Christmas matches the rest of the year, i.e., good year, good Christmas season. If that's true then 2018 will be strong: retail sales during the first six months of the year were up 4.4 percent compared with the first half of 2017, and the gross domestic product is expected to grow at or near three percent by the end of the year, according to the federation.
Despite concerns about possible trade wars, the economy should continue to grow through the end of the year, said Matthew Shay, the retail federation's president and chief executive officer.
"Our forecast reflects the overall strength of the industry," Shay said in a statement. "Thanks to a healthy economy and strong consumer confidence, we believe that this holiday season will continue to reflect the growth we've seen over the past year."
The International Council of Shopping Centers is equally optimistic.
The New York-based association, which commissioned its online Holiday Intention Forecast Survey in September, predicts that U.S. consumers will spend about $807 billion this Christmas season. If that forecast holds true it will be a 4.5 percent year-over-year increase.
Fifty four percent expect to spend more this year than they spent last year, with about 25 percent planning to buy a "big-ticket" item like jewelry or household appliances.
The council predicts that 84 percent of shoppers will visit a mall or shopping center this Christmas season. It also notes that consumer confidence is at its highest point in eight years, and that the average consumer plans to spend $706 in holiday- related spending, with $522 of that to be spent on gifts.
Deloitte, the global accounting and professional services network, is more optimistic than both trade organizations. It's predicting that holiday sales will top $1.1 trillion this year, and that spending will increase between five percent and 5.5 percent from last year.
Job growth has performed stronger than expected this year, and that alone should lead to more holiday spending, said Robert Kleinhenz, chief economist with the UC Riverside School of Business Center for Economic Forecasting and Development.
Low unemployment and wage growth that has outpaced inflation are also good signs, according to Kleinhenz.
"We knew this was going to be a strong year when some of the major retailers – Target, Kohl's, UPS – announced they were going to hire a lot of temporary workers," Kleinhenz said. "That means they expect this to be a good year.
"People are going to spend money, the question is how much of that spending will happen at brick-and-mortar retail?"
Discounts, in some cases deep ones, will dominate the weekend after Thanksgiving when the first major wave of holiday shopping begins, said Terri Relf, senior marketing director with The Mall of Victor Valley in Victorville and Inland Center Mall in Sam Bernardino.
"It's early but we're excited about what we're seeing so far," said Relf, who said Inland Center Mall expects to get a boost from few retailers it has added recently, as well as several expansions. "We can see that some people are already starting to shop."