Human Trafficking Survivor Receives Gift of Car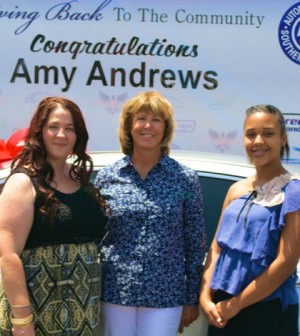 A City of Yucaipa resident, Amy Andrews, is a survivor of sex trafficking and domestic violence who has turned her victimization around and is now helping to empower other victims in local communities by her public speaking engagements on both of these challenging issues that face local residents. Until her truck became totally disabled, Amy was depending on a 1990's truck with nearly 200,000 miles to get to her job as a domestic violence counselor and youth advocate. Unable to afford another vehicle and without any transportation, Amy feared her lack of a vehicle would affect her job and her ability to continue to help others.
On Tuesday, June 24th, Amy was gifted a 2012 Honda Accord complete with all DMV fees and taxes paid, one year of Automobile Club of Southern California insurance, and a truckload of groceries with a full tank of gas for her and her family. This is due to the generosity of a local auto body shop who has continued to partner with other local businesses to give back to their respective communities.
Ben Clymer's The Body Shop has partnered with PPG and Martin Auto Color who contributed towards the refinish coatings, Spreen Honda who contributed towards needed service and parts, Community Connect who went through screening and verifying of all of the applicants, Enterprise Rent A Car who contributed towards the one year's paid insurance and the Automobile Club of Southern California who made it all possible by donating the salvaged vehicle for Ben Clymer's the Bodyshop to repair and was the original partner in the Benevolence Car Giveaway. Yucaipa Mayor Denise Hoyt, along with former Mayor Dick Riddell and City Manager Ray Casey and Councilmember Duncan were all in attendance to help rally support for a Yucaipa local and her children being provided this life changing gift. This is the 6th year and now the 10th car that the Clymer Family has donated to deserving families in the cities of Riverside, Moreno Valley, and Yucaipa.
Amy was selected from dozens of applications by the staff at Ben Clymer's .
To be eligible for this car giveaway the recipient had to be a resident within the city limits of Yucaipa and be truly in need of a car. Since the program is about giving a hand up versus a simple handout, Amy like previous winners, had to have an active role in the changing of her own life's circumstances and has fought for both herself and her family to give them all a better life and the car giveaway was that final push of encouragement to keep her on the road to continued success.
The car was given away in a presentation on June 24th at 11:00 AM at Ben Clymer's The Body Shop located at 32247 Dunlap Blvd., Yucaipa, CA 92399. Rick Lewis from the Automobile Club, Richard Frank from Enterprise, Jeff Spreen from Spreen Honda, Yucaipa Mayor Denise Hoyt and Bobbie Neff from Community Connect assisted with the presentation at the ceremony.
It is inspiring to have local businesses who care enough to continue to give back to their respective communities and improve the lives of the local residents. It's a story of how an insurance company and a local auto body repair shop can do more than just repair and restore vehicles involved in accidents. It's a story of how with team work, they can help repair and restore lives.