IE manufacturing is slipping, but there's no reason for concern … yet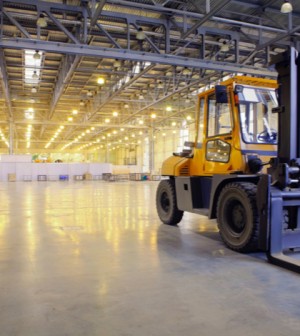 Region's March purchasing managers index is below 50, for the first time in seven months, but experts say the drop is temporary. The next two months will be critical.
Is it time to start worrying about manufacturing in the Inland Empire?
Not according to several local experts, but the last few sets of numbers regarding manufacturing in Riverside and San Bernardino counties aren't encouraging.
For the past four months, the region's purchasing managers index has dropped, slowly but steadily: starting in November, when the index was a solid 55.3, it fell to 53.5 in December, then to 51.9 in January, 50.3 in February and 49 last month.
The last number, which was released Tuesday, was significant.
Besides continuing the downward trend, it established that manufacturing in the two-county region is no longer growing, since any number below 50 is a sign of a contracting manufacturing sector.
That was the first time since August that the index fell below 50, but it's not time to worry yet, said Barbara Sirotnik, director of the Institute of Applied Research & Policy Analysis at Cal State San Bernardino.
Seasonal factors, including a drop in production after the holiday shopping season, were among the reasons for the decline. Also, it takes three consecutive months, positive or negative, to establish a trend, so one down month isn't that important.
Sirotnik, co-author of the monthly index, said the latest numbers are another chapter in one of the most sluggish economic comeback on record.
"It's just a very weak recovery, and I don't think the Inland Empire is entirely out of the recession yet," Sirotnik told iebusinessdaily.com Tuesday after the March index was released. "But I don't see being below 50 for one month as a reason to panic. I don't like that the numbers are dropping, but I'm no more pessimistic now than I was a month ago."
There were other less-than-stellar numbers in this month's report: production was down more than three points, to 48.3, while new orders and inventory were essentially flat. Employment was down 3.3 points, from 50 to 46.7, and 74 percent of the purchasing managers surveyed said they expect the economy to either stay the same or get worse.
Only 26 percent of those surveyed said they expect the economy to get better during that time, according to the index.
The production and news orders numbers are perhaps the most noteworthy data in the March index because they indicate that most manufacturers in the Inland Empire don't expect what they're producing to sell.
Sirotnik admitted she was concerned about those numbers, calling them "not very strong."
Attracting manufacturing jobs is crucial to the Inland Empire's economy, but one slow month isn't necessarily cause for concern, regional economist John Husing said.
Husing has questioned the accuracy of some of the data used in the index, but said this report is probably correct.
"I think that manufacturing is probably is down a little bit," Husing said. "From the signals that have been coming out of that sector lately I would say that's probably accurate. But I don't think it's any reason for concern."
The Inland Empire added nearly 47,000 jobs last year, but it will always have trouble adding manufacturing jobs, like any region in California, because the state places so many restrictions on manufacturing operations, Husing said.
Nationally, the manufacturing sector is relatively strong.
About 17.4 million jobs in the United States are manufacturing jobs, which works out to about one in six private-sector jobs, according to the National Association of Manufacturers in Washington, D.C.
In 2012, manufacturers contributed $2.03 trillion to the U.S. economy, or 12.5 percent of the gross domestic product, while the average worker in manufacturing earned $77,505 that year, about $15,000 more than the average worker in all other industries, according to the association.
"Manufacturing is important because it allows the middle class to earn a good income and move up the economic ladder," Husing said. "And you don't necessarily need a lot of education to do it."
Manufacturing output in the Inland Empire will likely pick up during the second half of the year, so 2014 will probably still end up being a good year overall for the region, said Kelly Reenders, administrator with San Bernardino County's Economic Development Agency.
The agency, which is a sponsor of the monthly index along with the Riverside County Economic Development Agency, still expects about 2.7 percent economic growth and 3.5 percent growth in manufacturing nationally, with the Inland region likely to benefit from those trends, Reenders said.
"I think the [manufacturing] slowdown is a bump at the start of the year, nothing more than that," Reenders said. "Some of it could have been caused by the bad weather back east, which has cut off a lot of demand for goods in that part of the country. A lot of things could have caused it."
The long-term outlook for manufacturing in the Inland Empire and the United States is good, mostly because of some changes in overseas markets, Reenders said.
"The cost of doing business overseas is going up, and that is starting to make the United States more competitive again, especially in manufacturing," Reenders said. "As that trend continues, the Inland Empire should reap some of the benefits, so there's reason to be optimistic about manufacturing."
Manufacturing might actually be up slightly during the past several months, said Eugene Montanez, owner of Allegra Marketing Print Mail in Corona.
"We deal with retail and wholesale people and they all seem to be doing pretty well," said Montanez, one of the purchasing managers who responds regularly to the index. "I can't speak for anyone else, but in our business we aren't seeing a slowdown. We're actually up from a year ago."
Montanez, who has owned and operated Allegra Marketing for 30 years, said he fills out the form the institute sends him "most of the time," but admitted he does miss a report occasionally.
"Sometimes it gets pushed to the bottom of the pile and I forget about it," Montanez said. "I think maybe some other businesses do the same thing, and they might be working from a small sample."