Inland company completes rail station platform shelters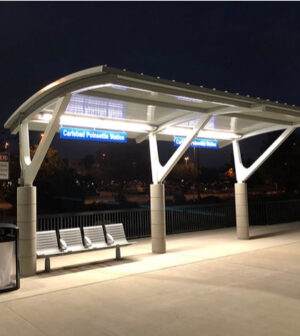 tolarmfg.com
Corona-based Tolar Manufacturing has completed 14 platform shelters at a Carlsbad rail station.
The project, which was overseen by the San Diego Association of Governments, and the North County Transit District, is part of a two-year expansion of the Poinsettia Station, according to a statement on the company's website.
Each shelter is 25 feet long and 14 feet deep, and provides weather protection for large numbers of passengers. The station's passenger count is expected to grow because of other recent upgrades that allow two trains to use the facility at one time.
The shelters were installed by Flatirion Construction, a Broomfield, Colo.-based company with an office in Chino Hills.
Tolar's work will improve wait times, provide easier access, reduce train delays, improve pedestrian safety, and provide more modern station amenities, according to the statement.