Inland Empire tops the list of largest U.S. warehouse deals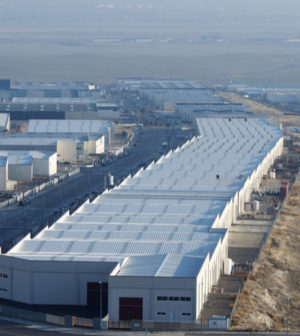 The closest market is 10 million square feet behind Riverside and San Bernardino counties, according to a report.
The Inland Empire was the heavyweight champion of large warehouse-distribution center lease deals in 2019.
Twenty one of the 100 largest industrial transactions in the United States last year happened in Riverside or San Bernardino counties, according to a recent report by CBRE.
Collectively, those deals totaled approximately 17.5 million square feet. The closest market to the Inland region was the Interstate 78-81 Corridor in central Pennsylvania, which accounted for eight leases that totaled of 7.5 million square feet.
Memphis (nine transactions, 6.9 million square feet), Dallas-Ft. Worth (seven transactions, 6.1 million square feet) and Atlanta (six transactions, 5.4 million square feet) complete the top five.
Not only did the Inland Empire outperform the second-place market by 10 million square feet, but more than one-fifth of the largest industrial deals last year happened in Riverside or San Bernardino counties, according to CBRE's national industrial report.
"The Inland Empire continues to lead because it is five years ahead of any other market in the nation," said Kurt Strasmann, executive managing director with CBRE's Orange County and Inland Empire offices and a retail specialist, in a statement.
Strasmann noted that the Inland Empire, often called the warehouse of the western United States, was at the head of a similar national logistics report by CBRE one year ago.
"It is the destination for especially large users due to the amount of quality product [in the market]," he continued. "Every industrial developer is here because of [the] strategic location close to the ports, our business infrastructure and [the] large local consumer base.
"It all started here, it will continue to be here and it will remain area of any U.S. region for the foreseeable future."
Logistics and e-commerce continue to drive the local market, accounting for 71 percent of the 100 largest warehouse-distribution transactions in the Inland region last year. Combined, those deals amounted to just under 30 million square feet of leased space.
Logistics leasing stayed strong in 2019, partly because of a steady demand from wholesale retailers and makers of durable and non-durable consumer goods who need to move their inventory from the warehouse to its final destination, according to CBRE.
During the fourth quarter of 2019, the industrial vacancy rate in the Inland Empire was 4.1 percent, with an average rental rate of 61 cents per square foot. There were few vacancies among large industrial buildings on the west side, and more than 19 million square feet of industrial space was under construction at the end of last year.
Most construction was on the east end, with available industrial land becoming more difficult to find in Rancho Cucamonga, Corona and Ontario.
Average rent was up seven percent year over year, and the Inland industrial market recorded 5.5 million square feet of net absorption during the last three months of 2019, according to CBRE's most recent quarterly report on the Inland Empire industrial market.
The Southern California industrial market is expected to remain strong, according to a study recently released.
Industrial activity throughout the greater Los Angeles market is expected to improve in 2020 and stay the same in the Inland Empire, according to the Winter 2020 Allen Matkins/UCLA Anderson Forecast California Commercial Real Estate Survey.
The industrial market is expected to stay strong, in part because of the tariff battle between China and the Trump Administration is seen as temporary. That battle may have eased slightly on Thursday, when the Chinese government announced it will cut tariffs on $75 billion worth of U.S. goods.
That action came two months after the administration and the Chinese government signed a trade agreement that President Trump said will help lead to "fair and reciprocal trade" between the world's two largest economies.
Large warehouse-distribution projects will continue to be built in the Inland Empire for one basic reason: at least for now, the region has the space to accommodate them, said Dan de la Paz, executive vice president with CBRE Ontario and a logistics specialist.
"When you see a report about large warehouse-distribution projects, what it's really telling you is how much available land there is," de la Paz said. "Obviously, in the Inland Empire, e-commerce is driving the demand for more distribution space. There doesn't appear to be any end to it."
Amazon currently has 20 million square feet of distribution space in the Inland market, and it's planning to add another 1.2 million square feet, de la Paz said.
Despite what appears to be an easing of tensions between the Trump Administration and China, the tariff war has yet to be fully resolved, said Chuck Belden, vice chairman and an industrial specialist with Cushman & Wakefield Ontario.
"There are so many things going on with China, the tariff war and now the coronavirus, and we don't know how that is going to affect the market," Belden said. "China is the one thing that really concerns me."