Inland retail continues to hum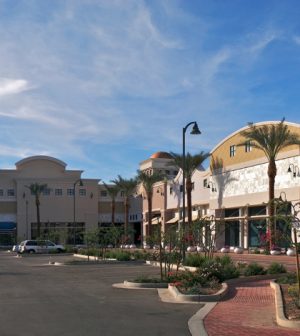 Third quarter numbers are strong, as the market continues to move out of the shadow of its two very large neighbors.
The Inland Empire retail market no longer plays second fiddle to Los Angeles and Orange counties.
That's the opinion expressed by CBRE in its third quarter report on retail in Riverside and San Bernardino counties, which describes a strong market that appears to be getting stronger. Vacancy is declining, net absorption and construction are rising and lease rates are solid and also going up.
The report, released last week, notes that the local retail market has been gathering strength for some time. Vacant land in both counties has given way to residential development, the logistics industry – helped recently by the rise in commerce – has added jobs and the region has benefited from an increase in young residents looking for "trendy" retail.
The third quarter numbers – 8.5 percent vacancy, 327,166 square feet of net absorption, 621,000 square feet of construction and average lease rates of $2.05 a square foot – back up that assessment.
"A long-held belief that the Inland Empire is nothing more than a tertiary market compared with its Los Angeles and Orange County neighbors is coming to an end," the report states.
During the third quarter, the Renaissance Marketplace, a 361,381-square-foot project in Rialto, welcomed its first tenants. In Fontana, the City Center, an Aldi-anchored neighborhood shopping center, opened its doors, as did Metro on Main, a 72,673-square-foot development in Corona within walking distance of the city's Metrolink station.
Also, the first phase of the Goodman Commerce Center in Eastvale, a 172,268 square foot project, opened earlier this year, and the 81,618-square-foot Elsinore Central Marketplace is on schedule to open by the end of the year in South Riverside County. Its primary anchor tenants will be Marshalls and ULTA.
Other "notable transactions" during the third quarter included Empower Youth Sports – 39,324 square feet – in Chino, Dick's Sporting Goods – 39,000 square feet – in Eastvale and DD's Discount – 18,040 square feet – in Hesperia.
More than 621,200 square feet of retail space is expected to be completed in the Inland Empire "in the very near future," according to the report.
Right now, the Inland retail market might be performing as well as it ever has, said Ryan Gast, senior associate and a retail specialist with CBRE.
One reason is that region's unemployment rate – 4.1 percent in September, according to the state employment development department – is staying down, which means people have more money to spend.
"I've been in this market for four and half years and right now it's as strong as I've ever seen it," Gast said. "It has affordable housing and its unemployment rate is low. The numbers are as good as they've ever been. In some ways it might be a better retail market than Los Angeles or Orange County."
The performance of the Inland retail market calls into question the idea that e-commerce is putting traditional brick-and-mortar retail out of business.
"The statistics can show it one way or the other depending on how you use them," Gast said. "But traditional retail isn't going away, it's just evolving."
Retail is "survival of the fittest," and the retailers who given people a reason to shop with them ultimately will survive, said Jay Prag, professor of economics at Claremont Graduate University's Drucker School of Management.
"You have to give people a reason to go out and fight their way into your parking lot," said Prag, who said he expects the economy – and therefore the retail sector – to remain strong in the immediate future. "If you do that you'll remain in business."
But some major retailers are cutting back, and that could lead to less logistics construction in the Inland Empire during the next year or so, said Carol Plowman, senior vice president and a retail specialist with Lee & Associates Ontario.
"Construction is actually flattening out a little bit, but I think that's more of a correction in the market than it is a downturn," Plowman said. "Things are going to slow down slightly, but there will still be growth."
The local industrial market is as strong as its ever been, and that bodes well for the Inland retail market, said Jerry Holdner, director of research for Kidder Mathews, a  West Coast commercial real estate firm.
"They can't build industrial buildings fast enough, and that feeds retail," said Holdner, who works out of the firm's Irvine office. "People are also spending money. My biggest concern is the election. If the Democrats taken the House we could end up with gridlock, where nothing gets done, and that would slow things down."
The Inland retail market is likely to stay strong for at least another year to 18 months, and maybe longer, according to Gast.
"I don't see anything that indicates the economy is about to slow down," Gast said.