Local program will train college students for housing construction jobs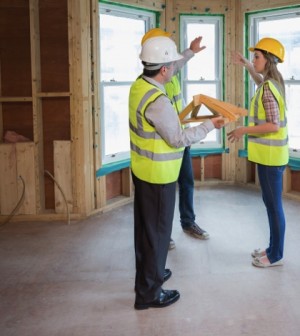 A partnership between a local trade association chapter and a community college district looks to fill construction jobs that are not being filled.
It's common knowledge to anyone who lives in California and follows the news that not enough single-family homes are being built in the state.
The lack of residential construction has caused a shortage of affordable homes, especially among people who want to buy their first home.
What's not as well known is that statewide, more than 100,000 jobs in residential construction are currently unfilled, according to the Baldy View Chapter of the Building Industry Association of Southern California, which represents San Bernardino County.
That trend goes back 10 years, when the Great Recession hit and the state's homebuilding industry "ended up on life support," said Gordon Nichols, the Baldy View chapter's senior director of government affairs.
The problem has been acute in the Inland Empire, where building houses is a major part of the local economy. An estimated 26,000 housing construction jobs went unclaimed in San Bernardino County between 2008 and 2011, Nichols said citing data from the state Employment Development Department.
"We got to a point where the local housing market was dead," Nichols said.
But the Baldy View Chapter and the San Bernardino Community College District have formed a training program that will prepare students for a career in homebuilding. The Entry-Level Residential Construction Trades Training Program was announced May 23 during a ceremony at the community college district's headquarters.
The event was attended by members of the local business community, county leaders and office holders.
"Addressing the labor needs of our economy is our highest priority," San Bernardino Community College District Chancellor Bruce Baron said in a statement. "That's why we are proud to partner with the BIA Baldy View chapter to equip students with real-world skills to be effective on the job on day one."
Building houses is not easy. The work is not dangerous, but workers require special training – especially in equipment operation – before they're able to function on a job site. They need to learn personal safety, how to work with their coworkers and how to communicate in the workplace, according to the statement, which the Baldy View chapter and the community college district released when the training program was announced.
The community college district's board of trustees is expected to approve the program shortly after July 1, when the district's 2019-'20 fiscal year will begin. 
The 275-hour program, which will be taught by district instructors and be part of its regular curriculum, is scheduled to start in September. Students will attend classes five days a week for seven weeks, and on completion will receive a Career Readiness Certificate that will be recognized by the BIA Baldy View Chapter.
In addition to demonstrating that public and private entities can work together to solve a problem, officials hope to take their pilot program to other college districts where it can also be put into practice. 
"We're going to plant a seed and hope it grows from there," Nichols said.
Twenty students are expected to graduate from the first class, and each of them probably stands a good chance of landing a job: 27 business that are Baldy View Chapter members have agreed to give priority to hiring members of the construction trades training program.
The San Bernardino County Probation Department, which oversees juvenile and adult subjects, will work with the community college district to determine which formerly incarcerated individuals might be a good fit for the program.
There are several theories why so many housing construction jobs go unfilled in California, starting with the emphasis on getting a four-year degree.
"From the day they start high school, everyone gets told over and over that they have to be a doctor or a lawyer," said Deanna Krehbiel, director of economic development and corporate training for the community college district. "They don't hear about the [construction] jobs unless they're related to someone who does that kind of work."
Construction jobs lack glamour, which is one reason why other industries – transportation and healthcare, for example – have been attracting workers who in another time might have gone into construction.
"Transportation and healthcare are more vertically integrated, meaning you have one company that is in charge of everything," Nichols said. "It's a much simpler business model, which can be more appealing. But when you're building houses, you have 15 to 20 subcontractors building one house."
The construction jobs training program will work because students will be taught a number subcontractor disciplines, not just one or two, Krehbiel predicted.
"They will know the basics of everything," said Krehbiel, who said she began working on the construction jobs training program about a year and a half ago. "They won't have to start all over again every time they go to a new job."