Menifee is looking to land a brewery or distillery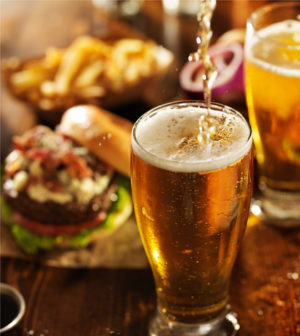 The city, which is about to get an entertainment complex and its first major hotel, wants to add to its downtown. The goal is a destination location that will attract outsiders and locals.
Menifee would like to serve you a beer. Many beers, in fact.
The southwest Riverside County city [population 93,400]  has set its sights on landing a brewery. It recently announced that goal on its website and appointed Joel Hermosillo, a member of its economic development team, its Brewery and Distillery Ambassador.
Hermosillo is in charge of reaching out to any breweries and distilleries that might be looking to expand in Southern California.
Menifee – which incorporated in 2008 – wants something that could develop into a regional destination while employing hundreds of people. Maybe something like Hangar 24, the popular microbrewery near Redlands Municipal Airport, or maybe something larger.
Hermosillo was not available for comment, but Menifee spokesman Ben Gallagher explained that Hermosillo will act as a "concierge" between the city and officials from any interested brewery or distillery.
"There's been some interest," Gallagher said. "There are even some who might be interested in manufacturing on the site, which would be great if we could get it."
Menifee officials didn't pick the brewery-distillery idea out of a hat. Announced on the city's website Jan. 13, it's the result of a community survey that found Menifee residents – many of whom are young professionals – would like to have a local brewery or distillery they could frequent.
Menifee's Comprehensive Economic Development Strategy recommends pursuing distilled beverages, "which offer tourism and place-making potential," said Gina Gonzalez, the city's economic development director.
Also, the city found out that a lot of its residents are going elsewhere when they want to enjoy a libation or two.
"We have an annual sales leakage of $54 million," some of which comes from the entertainment and restaurant sector, Gonzalez said in the website announcement. "The truth is, our trade-area population [the geographic area from which a community attracts most of its customers] of 800,000 equates to an enormous opportunity for breweries and distilleries to "tap" into."
That, combined with the survey result, makes it the "perfect time" for Menifee to try to persuade a growing brewery or distillery to invest in Menifee, according to Gonzalez.
"We have ample opportunities for breweries/distilleries and wineries of all sizes in Menifee," Gonzalez said in an e-mail interview. "From tasting rooms and microbreweries to large-scale breweries with a restaurant component, the community is hungry for this type of use.
Another reason this might be a good time for Menifee to pursue a brewery or distillery is that, in the last year or two, the city has been on a bit of a roll.
In December, ground was broken on the long-planned Krikorian Entertainment Complex in the center of the city. When finished, the project will have 13 theater screens, a 16-lane bowling alley and a one theater with a screen 100 feet by 54 feet, potentially the largest indoor screen in the United States.
The city was also recently named one of the top places to work in the Inland Empire by the Inland News Group, a top U.S. "boomtown" by www.smartasset.com and one of the fastest growing cities in Riverside County and the state of California by the state Department of Finance.
And, construction is underway on the four-story Fairfield Inn & Suites by Marriott. The $14 million hotel at Newport Road and Town Center Drive, directly across from the Krikorian project, is about 60 percent complete and is expected to be up and running this summer.
It will be Menifee's first major hotel, according to reports.
That activity, combined with its available land, makes attracting a brewery a realistic goal. Without question, such a project would generate revenue and help reduce some of that $54 million sales leakage.
For example, Temecula's 10 craft breweries – facilities that produce no more than six million barrels of beer annually – employed about 130 people and generated an estimated $27 million in revenue in 2018, according to a study commissioned by the city.
Menifee officials are open to anything, from a small tasting room, a microbrewery to a combination of brewery and restaurant, according to Gonzalez.
"It depends on the particular use," Gonzalez said when asked how big a facility the city is trying to attract. "It might range from 2000 square feet to 6,000 square feet. What we want is for everything that is happening downtown to feed off each other and create a robust entertainment and dining environment."
For years, cities have been offering million of dollars, and easing their zoning regulations, to attract breweries. Menifee is prepared to work with any company that wants to locate there, but it hasn't yet decided what kind of incentives it might offer.
"We have a robust business incentive program in place that is designed to meet a broad range of needs," Gonzalez said.