Omnitrans names top employee for third quarter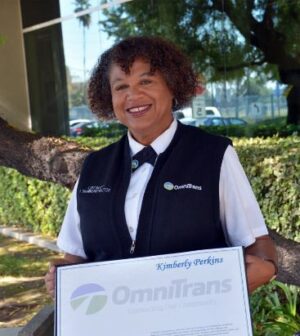 Kimberly Perkins has been named Omnitrans' top employee for the third quarter.
A senior fleet safety and training instructor with the San Bernardino transit agency, Perkins has taught drivers for 14 years and provided the best possible training during that time, according to a statement on the city's website.
Perkins maintained her high quality of work this year despite staffing changes and having to fulfill other professional obligations. For that, the board of directors named her Employee of the Quarter for the quarter that ended Sept. 30.
"We have a lot of good people here at Omnitrans, so I was very excited to receive the award," Perkins said in the statement. "I've been blessed with a great career here, so it feels rewarding to be recognized."
Perkins, who began her career with Omnitrans as a coach operator 24 years ago, was recognized at the board's November meeting.