Personal chef tweaks his business model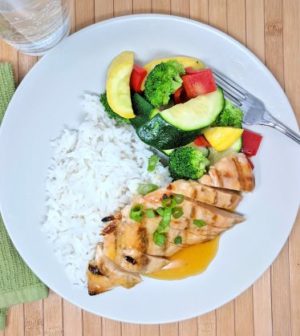 Rather than cook meals for people in their homes, Mike Hasson is preparing food in advance and delivering them to his busy customers. It's easier and more affordable than dealing with a personal chef, says one of his clients.
Mike Hasson recently decided to make a slight change to how he was doing business.
The 30-year-old San Bernardino resident gave up being a personal chef and started Epiphany Meal Prep. He now makes meals and delivers them to clients who are too busy, or otherwise not inclined, to cook for themselves.
Rather than go from house to house every day cooking for individual clients, Hasson prepares a week's worth of meals at a commercial kitchen in Redlands, then delivers the finished products on Sunday.
Hasson says his clients generally fall into three categories: two-income families with small children, people who own their own business and people concerned about their health.
"They're all very busy," said Hasson, who worked in IT for 10 years before enrolling in culinary school, a move he said he made because he realized one day he'd always been interested in food.
So far, Hasson's new business – which opened with a business partner in September after three months of preparation  – is confined to the people he worked for as a personal chef. However, he sees great potential in Epiphany Meal Prep, especially as people's lives become busier and more complicated.
"I believe this is a more scalable business model than what I was doing," said Hasson, an Orange County native who earned his master's degree at the Ontario branch of Argosy University. "It has more potential for growth. I could see this going nationwide over the next five to 10 years, if we do it right. We aren't turning a profit yet, but there's interest building. I can feel it picking up momentum."
For now, Epiphany Meal delivers within a 30-mile radius of its Redlands kitchen, which includes Moreno Valley, Yucaipa, Loma Linda, San Bernardino, Highland, Corona, Riverside and Rialto.
Hasson's goal is to deliver into Los Angeles and Orange County. All deliveries are made between 2 p.m. and 8 p.m. Sundays, so that everyone has their Monday through Friday meals in place, ready to heat up, when the week begins.
The company's website, www.epiphanymp.com, lists 12 dinners, including orange chicken with steam fried vegetables and white rice, chicken alfredo with broccoli and whole wheat pasta and English pot roast with peas, carrots and garlic mashed potatoes.
Prices range from $5 to $14, and a countdown clocks in the upper right hand corner tells to the second how much time remains to submit orders for the upcoming week.
All Epiphany Prep meals are made with fresh ingredients and are rich in vegetables and lean proteins. Its menu features dairy-free, gluten-free, grain-free, paleo and vegetarian dishes, and several new dishes are available every week.
Most people who employ a personal chef do so because they want to eat healthy, but they don't have the time to prepare healthy meals, Hasson said.
"It's lot easier to cook non-healthy meals, because most grocery stores are loaded with non-healthy foods," Hasson said. "Restaurant foods also aren't healthy most of the time, and eating out is too expensive. Our menu is healthy, and it's pretty simple."
Epiphany Meal is ideal for people who work long hours and don't have time to cook healthy meals, said Ashley Driscoll, a Redlands resident and real estate investor.
Driscoll and her husband, a construction project manager, hired Hasson as a personal chef one year ago, then signed up for Epiphany Meal as soon as they learned of it.
"We tried it for two reasons," Driscoll said. "We have three children who are four years old or younger, and we aren't able to cook healthy meals for ourselves. When we did cook for ourselves we started to put on some weight, so we knew we had to try something else."
Epiphany Meal's approach has appeal beyond its health benefits Driscoll said.
"It's more affordable than hiring a private chef, and you don't have to open your kitchen up every week so someone can come in and cook," Driscoll said. "It also saves a lot of time, because you aren't shopping, you aren't meal planning, you aren't having to cook. My husband and I feel better and our kids feel better. We are definitely going to stick with it."
Currently, there are maybe 1,000 to 1,500 businesses in the United States  similar or identical to Epiphany Meal, said Larry Lynch, president and owner of the U.S. Personal Chef Association in Orlando, Fla.
"It's a business model that's starting to morph into something bigger, and it will probably continue to grow because more people are going to want that kind of service," Lynch said. "The problem is that there are a lot of states, and California is one of them, that have very strict laws regarding food service and food preparation that can make it hard to stay in business. But it's a solid business model."