Post office renamed for Jack Brown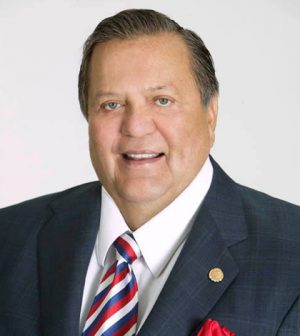 Jack Brown, the man who led Stater Bros. Markets for more than 35 years and transformed the supermarket chain into the largest Inland Empire-based private employer, now has a post office named after him.
The building at 395 W. Fifth St. in San Bernardino is the Jack H. Brown Post Office Building, according to a statement released by the office of U.S.Rep. Pete Aguilar, D-San Bernardino.
Aguilar sponsored the bill to rename the building in honor of Brown, who died in November 2016. President Trump signed that legislation into law Thursday.
"Today is a proud day for our entire family," Brown's survivors said in a statement. "Jack dedicated his life to serving the Inland Empire, and now his memory will forever be enshrined in the heart of San Bernardino, the city he loved so much.
"We're grateful for the work of Congressman Aguilar to help make this possible and look forward to carrying on Jack's legacy of service to this community."
Aguilar, who introduced the bill in June of 2017, called Brown "a titan" who was universally respected in the community.
"He loved our community and spent his life working to make San Bernardino a better place," Aguilar said of Brown. "I'm proud to have known him and to honor him by making his name a permanent fixture in his hometown."