Proposal to move horse races from Fairplex to Los Alamitos might have legs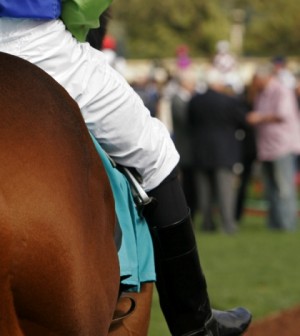 That's the opinion of the chairman of the state's horse racing board, although moving races from one county to another might be tricky. Other issues must be resolved
Fairplex officials appear to have a solid case for moving horse racing from the Pomona facility to Los Alamitos Race Course in Orange County, the state's leading horse racing official said this week.
"I think the idea has merit, and I think moving the races to Los Alamitos could open up some opportunities that they haven't had [in Pomona] for awhile," said Chuck Winner, chairman of the seven-member California Horse Racing Board, which regulates horse racing and parimutuel betting at licensed race tracks in the state.
"I think there are a number of solid arguments in favor of making that move, starting with Los Alamitos itself, which is a beautiful track," Winner said. "They've done a terrific job there. But it remains to be seen if it's going to happen."
Winner's comments came one week after the board postponed until its June 19 meeting its decision on whether to move the Fairplex race meeting to Los Alamitos. Those races are held every September, during the Los Angeles County Fair.
At the board's April 19 meeting, Fairplex officials told board members that they want to move the races to Los Alamitos.
James Henwood, president and chief executive officer of the Los Angeles County Fair Association, said Fairplex Park, the fair's race track, doesn't have the modern facilities needed to compete in Southern California horse racing.
Among other things, Fairplex Park's track is only 5/8 of a mile. Better to hold the races at Los Alamitos, an excellent facility in a great location that recently installed a one-mile track and is upgrading its amenities, Henwood said.
"If you're going to be in a major league market you have to play at a major league level," Henwood told the board in April. "Fairplex [Park] does not provide all of the things that people want to experience when they go to the race track."
After the meeting, Henwood called the proposed move a business decision based strictly on market factors, and said no one is considering tearing down Fairplex Park, which is the county fair's entertainment venue.
Fairplex's job is to grow thoroughbred horse racing in Southern California; right now, the best way to do that is to move the races to a better location, even if means Fairplex will be without horse racing for the first time in 70 years, Henwood said.
While the board took no action – the session was for information only – several members, including Winner, did mention some concerns about the proposal. In particular, several members noted that the Los Angeles County Fair attracts about 1.5 million people annually, and that a lot of those people never see thoroughbred horse racing anywhere else.
Even with its superior facilities, would Los Alamitos – which tends to attract more serious horse racing bettors and is not affiliated with an event like the Los Angeles County Fair – really be a better place to expose people to horse racing for the first time?
Winner expressed reservations about moving race dates from one county to another, and wondered if the state legislature would have to pass a special bill to allow such a move.
But none of those concerns should not be considered resistance to Fairplex's proposal. If anything, the idea for moving the Fairplex races to Los Alamitos might be picking up some backing.
"Among people in the racing industry, I get the feeling some people are starting to support it," said Winner, who admitted that race dates have been moved from one county to another on several occasions, specifically between race tracks in Northern California. "But I'm not speaking for the board. I'm sure some members are for it and some are against it."
Wherever the races end up, one fact is indisputable: thoroughbred horse racing is losing popularity, in California and everywhere else. As its fan base gets older, attendance at race tracks drops and people find other ways to gamble, ways that maybe weren't available 20 years ago.
State lotteries and Native American-owned casinos are the norm throughout most of the United States. The days when placing a bet on a horse was the only legal way to gamble in a lot states – including California until state lottery ticket first went on sale in 1985 – are long gone, said I. Nelson Rose, a professor at Whittier Law School and one of the country's foremost authorities on gaming.
"I think people in horse racing are starting to wake up to their problems, but unfortunately I think it's too late," Rose said. "There are too many ways to gamble now that are more enjoyable and that pay better than betting on a horse."
Rose talks about "barriers" that people who want to bet intelligently on a horse race have to deal with, including gathering as much information on each
horse before placing a bet, then having to wait 20 minutes between races.
For most people, that's not as much fun as playing dice or buying a lottery ticket, and both of those things tend to pay better than a successful visit to the parimutuel window.
"A lot of work goes into betting on horse race if you're doing it correctly," Rose said. "Also, unless you pick eight winners or do something spectacular like that, the payout isn't that big and there's not a lot going on. It's like the third game of the World Series. Most of the time, there's not a lot of drama to it."
Horse racing, once one of the most popular spectator sports in the country, has also been hurt by other things, including the perception that races are sometimes fixed and that horses are often drugged to get better performances out of them.
Horse racing would be better served if it had a national organizing body and a commissioner: the long-time practice of running horse racing state-by-state, with no one person in charge like the commissioner's in baseball, basketball and football, has made the sport difficult to market, Rose said.
None of those issues have anything to do with the problems at Fairplex Park, Henwood said.
"What we're dealing with has nothing do with horse racing anywhere else," Henwood said. "We just don't have the facilities."