Riverside looks to add shelter space for homeless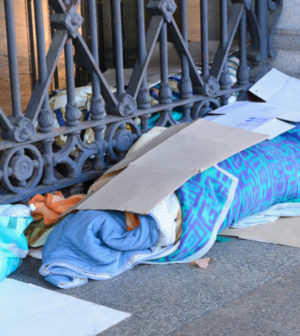 City Council takes action to try to stem a problem that's likely to get worse before it gets better, according to officials.
Riverside is stepping up its battle against homelessness.
Last month, the city council voted to expand the city's only homeless shelter in order to get more homeless people off the street, as soon as possible.
"Homelessness is a very serious crisis in Riverside, like it is in a lot of cities," Mayor Rusty Bailey said. "It's actually getting worse, which is why we have to act with some urgency. The red lights are flashing. We need to do this now."
During its Dec. 18 meeting, council members considered six proposals and approved three:
They agreed to buy 20 cabin-like structures that will be built on the grounds of the Path of Life Emergency Shelter, 2840 Hulen Place, Riverside's lone homeless facility.
The one-room structures will be geared toward people who aren't suited for group shelters, including couples, pet owners and people with post-traumatic stress disorder, according to a staff report. 
The council approved that option after learning that members of the city's religious community will raise money for the project, which is expected to be ready in March.
Council members pledged $1.3 million to help get that project started. The shelter is run by the Path of Life Ministries, a non-profit group that helps homeless people in greater Riverside.
The council also agreed to pay $340,000 or the use of 40 more beds at the emergency shelter, raising to 55 the number of beds Riverside has access to there. Those beds could be ready by next month, according to the report.
The council also approved a tenant-based rental assistance program that will place at least 40 homeless people or families into secure housing. 
The program, which will provide homeless people with security deposits and rent, is designed to help people who don't have enough money to pay for their own housing after they leave the shelter. It will also include support services that will address issues that may have prevented a person from obtaining housing in the past. 
That program will cost $740,000 a year and is scheduled to launch in February. All funding approved by the council will come from Measure Z, a one-cent sales tax approved by Riverside voters in 2016.  Measure Z was meant to improve the quality of life in Riverside, including alleviating homelessness.
Council members rejected several options: Buying 20 wooden "tuff sheds," erecting a tent at Path of Life that would accommodate 125 beds, and adding 125 emergency beds at the National Guard Armory at Fairmount Park.
Following a discussion, the council decided that the tuff sheds – normally used in a backyard to store gardening equipment – would, despite their name, not be durable enough. The tent idea was rejected because it would take too long to build and consume too much space, and placing emergency beds at the Armory – the site of Riverside's original homeless shelter until about 15 years ago – was determined to be a potential hazard to Fairmount Park, according to the report.
The vote was 6-1, with Ward One Councilwoman Erin Edwards voting no. Edwards acknowledged the seriousness of Riverside's shelter crisis but said she favors a more regional approach to solving the problem, believing that will ultimately get more homeless people into decent housing.
The council's action was consistent with the "housing first" approach to ending homelessness, which Riverside has pledged to follow.
A relatively new idea that is gaining popularity throughout the United States, housing first recommends getting a homeless person off the street and into decent housing immediately, then working on whatever issues – alcoholism, drug abuse, money problems – that caused the person to be without a place to live.
Besides getting the homeless into a safe environment, housing first avoids moving homeless people from one community to another, which happens often when a city or county forces its homeless population off the street.
Riverside ramped up its anti-homeless efforts one year ago, when it partnered with Grove Community Church to develop Grove Village, a four-house project at Grove Community Church, 19900 Grove Community Drive.
Grove Village is temporary housing for homeless families. Residents have access to services that help them become self-sufficient, including job training, job placement and classes on child care, basic life skills and financial planning.
Homelessness is getting worse almost everywhere in the United States, said Hafsa Kaka, Riverside's homeless services manager. 
Los Angeles has about 60,000 homeless and Orange County has about 8,000, according to last January's Point in Time count, which is conducted annually by the U.S. Department of Housing and Urban Development.
That same count found 2,045 homeless in Riverside County, 439 of which were in Riverside. All of those numbers are expected to go up this month, when the 2020 Point In Time count is conducted.
"It's a difficult problem to solve," Kaka said. "Being homeless is a pretty traumatic experience. What we try to do is give people options."