Rowe named SB County Supervisor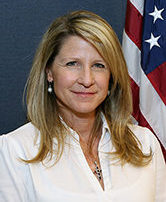 San Bernardino County
Former Yucca Valley Mayor Dawn Rowe has been chosen to fill a vacant seat on the San Bernardino County Board of Supervisors.
Rowe was appointed unanimously Tuesday to replace Supervisor James Ramos, who represented the third district, according to a statement.
Ramos was elected to the state Assembly in November.
Rowe will serve the last two years of Ramos' four-year term. Selected from among 43 applicants, Rowe's appointment means the board has a female majority for the first time in its 165-year history,
A 15-year resident of the Morongo Basin, Rowe served on the Yucca Valley Town Council from 2010 to 2014, including a time as mayor. Most recently she was a field representative for Rep. Paul Cook, R-Apple Valley. 
Rowe has also been a substitute teacher with the Morongo Unified School District since 2009 and is active with multiple community organizations.