Salisbury named MV police chief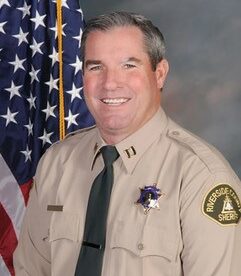 Riverside County Sheriff's Department
John Salisbury has been named Moreno Valley's chief of police.
A 24-year veteran of the Riverside County Sheriff's Department, Salisbury served in Moreno Valley the first seven years of his law enforcement career, as a patrol deputy and then as a member of a unit that investigated gangs, according to a statement. 
He was promoted to sergeant in 2005 and was assigned to Hemet and the San Jacinto Valley. Salisbury was made a lieutenant in 2014 and was recently promoted to captain.
He began serving as Moreno Valley's police chief last month. 
"Chief Salisbury knows our community," Mayor Yxstian Gutierrez said in the statement. "And that's important, because every community is unique. Our deputies have the trust and support of residents and Chief Salisbury has been part of creating that relationship."