SB County sets up temporary care sites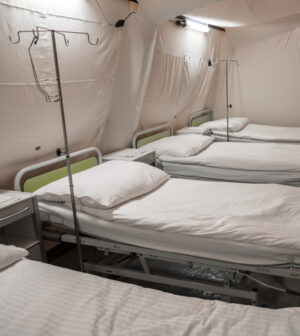 San Bernardino County is establishing alternate care sites in response to the recent spike in COVID-19 cases.
Each treatment site is meant to help local hospitals forced to deal with too many patients, according to a statement on the county's website.
One site has been established at parking lot 14 at Arrowhead Regional Medical Center in Colton. Called ACS Village, it's comprised of a nursing unit, patient care areas with 32 beds, an Isolation Pod, and a command center. 
"Our previous peak in hospitalizations was in early April, but we've recently experienced a significant increase in patients, including a doubling of our hospitalization rate over the past 30 days," said Dr. Troy Pennington, an emergency room physician at Arrowhead Regional, in the statement. "Many of our hospitals are nearing the point of using beds beyond their normal licensed capacity."
County officials are looking for morel sites near other county medical facilities.
The alternate care sites are for potential surges in cases. They will allow hospitals to focus on patients who need the most serious treatment, according to the statement.