SB County water conference touches on need for better water delivery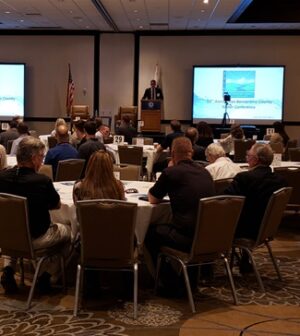 California must implement AB 401 the water legislation that then-Gov. Jerry. Brown signed into law in 2015.
That was the conclusion of a group of water experts who discussed safe and affordable drinking water in California during the annual San Bernardino County Water Conference Friday, which attracted about 275 dignitaries from the public and private sector.
That bill – the Low-Income Rate Water Assistance Program – calls for a statewide program that would guarantee low-income residents an adequate supply of clean water. Brown effectively declared water a human right when he signed that bill, the first governor of any state to do so.
California has about 430 water agencies that deliver water to about 90 percent of the state's population, but only 20 percent of those agencies would be able to operate affordability programs, according to UCLA's Luskin Center for Innovation.
About one million Californians – mostly in the central part of the state – don't have regular access to clean water, the state needs to make major improvements to its delivery methods, said Paul D. Jones II, general manager of the Eastern Municipal Water District.
Much of the four-hour conference dealt with balancing water needs with housing needs. Because new houses today are well-equipped to conserve water, the state's seven-year water shortage – which officially ended last spring – isn't the reason not enough houses are being built, said Carlos Rodriguez, chief executive officer of the Baldy View Chapter of the Building Industry Association of Southern California.
The state's housing crisis has to do with housing prices being too high, and the problem is getting worse: California is approximately two million housing units short of what it needs to keep up with demand, and San Bernardino County will be about 69,000 units short by the end of 2020 if the present pace of building continues, Rodriguez said during his opening remarks.
The Baldy View Chapter hosted the water conference, which was held at the DoubleTree Hilton Hotel in Ontario.