Solar jobs on the rise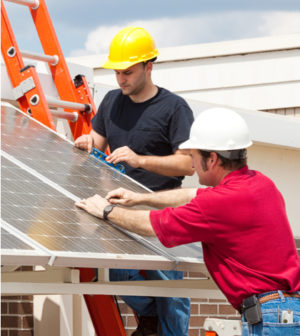 Inland Empire employers expect to add about 675 solar jobs during the next two years, according to a report.
The study was conducted by GRID Alternatives Inland Empire, the Inland Empire/Desert Center of Excellence and the Deputy Sector Navigator for Advanced Transportation and Renewable Energy, each of which promotes solar power.
It was based on data gathered during the fourth quarter of last year from 36 residential and commercial solar employers in Riverside and San Bernardino counties. Despite some concerns about tariffs on solar products implemented by the Trump Administration, 64 percent of those surveyed said they expect to hire more people during the next 24 months.
The most common solar-related jobs in the two-county region include installers, electricians, project managers and sales representatives. Most of those jobs are available to high school graduates.
The report follows a February study by The Solar Foundation that showed a 14 percent drop in solar jobs in California and a 3.8 percent drop nationally during 2017.