State cap and trade extension draws mixed reaction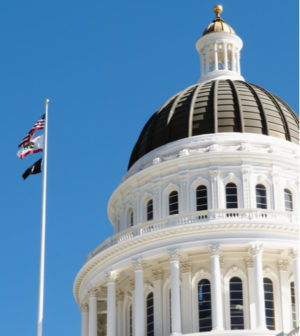 Supporters say it will be good for the environment, but others fear the damage it could do to businesses and working families.
Earlier this month, the state legislature handed Gov. Jerry Brown a major victory when it voted to extend California's main program for battling climate change.
The vote on Assembly Bill 398 extended the state's cap-and-trade program, which began five years ago, to 2030. The final tally, which included eight Republican votes, was 55-21 in the Assembly and 28-12 in the Senate.
Brown and other supporters of the program – the only one of its kind in the United States  – hailed the July 16 vote, calling it the best way for the state with one for the largest economies  in the world  to meet its emission cutting goals during the next 13 years.
Legislators in Sacramento also passed a companion bill, AB 617, that seeks to reduce pollutants that cause health problems like asthma. That vote was 50-24 in the Assembly and 27-13 in the Senate.
In a break with partisan gridlock, one GOP state Senator – Tom Berryhill in Modesto – and seven Republican assembly members voted in favor of AB 398.
In a statement, Brown praised the vote, saying Democrats and Republicans "set aside their differences, came together and took courageous action."
The state legislature, demonstrated to the rest of the country  "what good government looks like," said Brown, who signed AB 398 into law Tuesday.
Several prominent Republicans, including former California Gov. Pete Wilson and former U.S. Secretary of State George Shultz, immediately endorsed the measure. Former Gov. Arnold Schwarzenegger, who signed the legislation that helped start the state's cap and trade legislation, said in a statement that the vote "fills me with tremendous pride."
To its proponents, the extension is a win for everyone.
The state will continue to fight climate change with the market-oriented cap and trade, in which businesses receive economic rewards in exchange for reducing the level of emissions in pollutants. Brown got the super-majority vote he wanted, and California showed the rest of the country that Republicans and Democrats can work together to help solve a problem, one with potentially devastating long-term consequences.
But not everyone sees it that way.
The cap-and-trade bill and its accompanying piece of clean air legislation has critics on both sides of the political aisle.
Some say it could hurt everyone by sending the price of gasoline through the roof. They cite a study by the non-partisan Legislative Analyst's Office, which found that cap and trade could raise gas prices anywhere from 24 to 73 cents a gallon by 2031.
Others say it's too soft on business, and that it guts the state's efforts to reduce greenhouse emissions.
One local economist says no one state can do much to reduce global warming, even one the size and scope of California.
"It doesn't make a lot of sense," said Jay Prag, professor of economics and finance at the Drucker School of Management at Claremont Graduate University. "In order for something like this to work, to have a real impact on the environment, everyone has to do it. No one state is going to make that much difference."
Because it will raise taxes, the legislation is likely to hurt businesses in California over the next 10 years or so, Prat said.
"I think the stuff about gas prices going sky high is overblown, but extending the taxes definitely will not help businesses," Prag said. "It could cause some of them to leave the state, and we already have enough of a problem in that area."
Lou Desmond, host of The Lou Desmond and Company Show, a conservative-leaning talk show broadcast weekdays from 5-7 p.m on News Talk 1290 AM, iHeartRadio, believes extending the state's cap and trade program will be devastating to the state's economy, and to working families in particular.
"A tax of 73 cents per gallon, which is what they're talking about, works out to an extra $600 to $1,000 a year," said Desmond. "It's also a fact that a lot of people in the Inland Empire work in Los Angeles and Orange County, so they have a long drive to get to work.
Because it guts the state's requirements regarding the elimination of greenhouse gas emissions, AB 398 is more of a sop to the oil industry than it is anything else, said Penny Newman, executive director of the Center for Community Action and Environmental Justice, a non-profit environmental group based in Jurupa Valley.
"Big oil certainly won big-time on this one," Newman said. "I don't know what we can do about that. We're looking for ways we can fight back, but I don't know if there are any."