Third Lawsuit Filed Challenging Cannabis Business Permits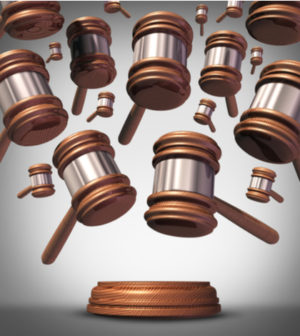 A new lawsuit against San Bernardino alleges the city seemed to have "no rational basis" for how it scored applicants prior to awarding 16 commercial cannabis permits in February.
The lawsuit, KP Investment Group LLC, versus the city of San Bernardino, filed Friday, March 29, in the San Bernardino District of State Superior Court, is the third lawsuit focused on the award of marijuana related business permits at a specially called City Council meeting on February 21.
The newest lawsuit also alleges that the city violated its own procedure and the municipal code and state law.
"By granting these licenses, which are worth potentially millions of dollars each, defendants granted gifts of taxpayer resources inappropriately," Robert A. Freeman, a Fullerton-based attorney wrote in his brief.
"We can't comment on pending litigation or the merits of any legal claim," said Bill Essayli, chief of staff for San Bernardino Mayor John Valdivia.
The lawsuit alleges that many applicants who were not compliant with the setbacks required for their proposed businesses and failed to obtain the required approval letter from the city zoning department before submitting their application, received project evaluation scores similar or even better than those applications that were zoning compliant.
Similarly, many businesses who were not compliant with the city's general plan received scores that were similar or better to those that were.
"This seems to show that there is no rational basis behind the scoring system," the lawsuit alleges.
"In fact, four of the top ten scoring applications either had their zoning verification letters denied for sensitive uses nearby or were deemed general plan non-compliant."
The lawsuit alleged that at least one permit applicant was allowed to submit an application after the cutoff date of June 25, 2018.
The lawsuit is seeking a court order not to issue any of the "illegal" cannabis licenses.
On Friday, March 29, Superior Court Judge David Cohn declined a request for an injunction to block seven contested cannabis-related businesses to continue seeking city of San Bernardino approvals to operate, as requested by Stephanie Smith in her Washington LLC versus City of San Bernardino lawsuit filed Feb. 25.
Smith's was the first of three lawsuits.
Smith is a Pacific Palisades real estate investor who is seeking a cannabis business permit.
The Washington lawsuit, filed by Riverside Attorney Ben Eilenberg, differs considerably from Freeman's in its allegation of a complex "pay for play" environment surrounding the city of San Bernardino's award of cannabis licenses.
The third lawsuit, filed March 1 by Connected Cannabis Co. is also critical of the city's selection process.