Threshold Aviation Group hosts Memorial Day Fliers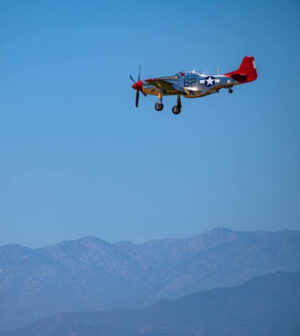 Threshold Aviation
Eighteen World War II-era planes landed at Chino Airport Monday after participating in a flyover that included cemeteries, war memorials and hospitals throughout Southern California.
The Memorial Day event, co-sponsored by the Commemorative Air Force, Inland Empire Wing and the Palm Springs Air Museum, honored the U.S. Soldiers, Sailors, Marines, Airmen and Guardsmen that made the ultimate sacrifice thereby assuring us the freedoms we enjoy today. Additionally, great appreciation was shown to the front line first responders and medical personnel currently at war with COVID-19.

The Flyover sites included Riverside National Cemetery, Loma Linda Medical Center, Children's Hospital of Orange County, the Queen Mary in Long Beach and the USS Iowa at the Port of Los Angeles.

Veterans of World War II, Korea, Vietnam and the Gulf Wars were guests of honor who flew in the aircraft as passengers. Afterward, the planes landed at the Chino Airport where the pilots and crews were treated to a barbecue – all American fare including hamburgers, hot dogs, refreshments and more – at Threshold Aviation Group, one of the largest full-service aircraft maintenance and management companies on the west coast.

All of the planes were refueled and serviced at cost by Threshold Aviation Group. Thereafter, they departed for their home bases, said Mark DiLullo, the company's Chief Executive Officer.

Knowing the tribute flight would tech stop at Chino, Nicole DiLullo, the Director of Operations, offered to host the downtime festivities.

"The flyover was planned with the same precision as any other military operation – with careful attention to detail and timing. All objectives were met", said Michael Nightingale from the Palm Spring Air Museum.

The second plane to land, a C-47B based at the Estrella Warbirds Museum in Paso Robles, was used to move supplies into Europe during the war, starting with the buildup to the D-Day landing in June 1944, pilot Scott Stelzle said.
The plane made a second trip to Normandy, when Stelzle flew it there for the 75th anniversary of the allied invasion.

"It's a great plane and a lot of fun to fly," said Stelzle, a veteran pilot and the museum's chief operating officer. Crew member Rob Kinnear called the plane by its nickname during the war – Gooney Bird – and declared it to be a fine aircraft, though past its prime.

"By today's standards it's overbuilt, but that's why it's still able to fly," Kinnear said.

When asked the meaning of Memorial Day, DiLullo stated, "Memorial Day is that one day we take to celebrate those men and women, who made the ultimate sacrifice, that assured the rest of us would live free."