Threshold Aviation hosts annual holiday dinner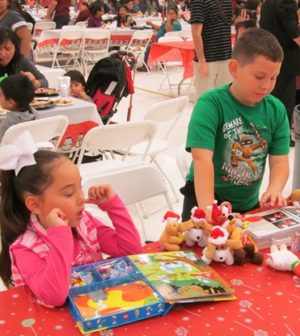 About 2,500 people attended the 11th annual HLC Foundation's Christmas Dinner, hosted Saturday by Threshold Aviation at Chino Airport.
The event, sponsored in part by the Chino Police Department and the Chino Valley Professional Firefighters Local 3522, helps underprivileged children and their families.
Everyone in attendance got a free hot meal and a toy courtesy of Hope, Love and Charity, Threshold's charitable foundation.
"How can you say no to these kids," said Mark DiLullo,Threshold's chief executive, as another line of participants filed into Hanger 4. "There's no way you can do that. We plan for this all year, and we love putting it on. It helps a lot of people get through Christmas."
Participants are referred to the event by a variety of sources, mostly local police, firefighters and churches. DiLullo declined to say what the dinner costs to put on, but said about 200 people are needed to carry it out.
"I'm on a single-income and it's a huge relief to have something like this that we can get to every year," said Crystal Devol of Riverside, who attended this year with her three small children and a niece. "It makes this time of the year a lot easier for a lot of people."
Threshold buys and restore private jets from personal and commercial use. Golds Gym and the John P. Previti Memorial Foundation also sponsored this year's event.