Yes, the Inland Empire office market is coming back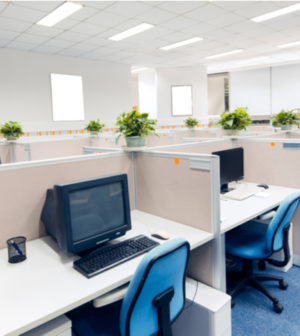 It's just not coming back as fast as people connected with the market would like. Vacancy is still above 10 percent, although the region continues to post positive net absorption, albeit in small numbers. Two thousand and eighteen is likely to be more of the same.
Will 2018 finally be the year someone develops a speculative office building somewhere in Riverside or San Bernardino counties?
Possibly, but not likely, say several office brokers with years of experience in the Inland Empire, which has spent the last six years or so trying to fill office buildings that were developed before the Great Recession.
Unfortunately, the market, although improving steadily every year, still has too much empty office space to merit building anything new.
"I've heard a lot of rumors about people buying land for 'spec' office development, but so far that's all they are, rumors," said John Ewart, senior managing director with Newmark Knight Frank Global Commercial Real Services Ontario. "Nothing has happened, and I don't expect it to happen anytime soon.
"The market is getting better, but it's not there yet."
The Inland Empire's industrial market long ago recovered from the economic collapse of 2007-08 and has been hitting on all cylinders for several years. However, the office market, which was stopped cold when the economy collapsed, hasn't been so fortunate.
Vacancy was 11.7 percent at the end of the third quarter, according CBRE Group Inc. Ontario.
That's not outstanding – most brokers say the vacancy rate must get below 10 percent before anyone will even consider developing an office building without signed tenants – but it's well below the 23.2 percent peak vacancy rate the market recorded in February 2011.
The Inland market did absorb nearly 30,000 square feet of space during the third quarter, the bulk of which happened in the Chino-Chino Hills submarket.
Overall, most of the absorption – the four largest transactions – involved Class A office space, CBRE reported.
Lease rates in all categories – Classes A, B and C – averaged $1.92 a square foot during that time, a modest seven-cent increase year-over-year.
Of course, nothing new was built. The last "spec" office project in the Inland Empire was Citrus Tower, the six-story Class A office tower next to the 91 Freeway in downtown Riverside.
The building, which is the equal of any similar-sized Class A office building in Los Angeles or Orange County, is being marketed by Lee & Associates Commercial Real Estate Services Riverside.
Citrus Tower landed several tenants not long after it went on the market in the spring of 2012: Best, Best & Krieger and CaLSTRS, a pension advisory firm affiliated with the California Teachers Union, both of which are still there. But the building at 3390 University Ave. still has multiple vacancies on three floors, according to www.showcase.com, which lists available commercial real estate properties throughout the United States.
"[The] Inland Empire is best described as a slow and steady [office] market, and this past quarter it stayed true to that reputation," CBRE's quarterly report stated.
The report further noted that the Inland Empire office market has recorded positive net absorption in 22 of the past 23 quarters, and that absorption of Class A office space improved at the same rate Class B space declined during the third quarter.
"Tenants are seeking better spaces and better environments," the report stated.
Landlords are still offering incentives to get prospective tenants to sign on the dotted line, but nothing like what they were offering a few years ago, and that's a sign that the office market is improving, Ewart said.
"The standard lease deal was one month's free rent for every year, so if you had a five-year lease you probably had five months free rent," Ewart said. "That's not happening anymore. The landlords don't need to make those deals."
The Inland office market should perform at least as well next year as it did in 2017, and maybe a little better, said Rick Lazar, senior vice president with Coldwell Banker Commercial in Redlands.
"The Orange County office market is on fire, they're seeing a lot of absorption, so we should get some spillover from that," Lazar said. "Demand is still high. As for any spec development, it could happen in 2018 but I doubt it. I think you'll have to see the vacancy rate get below 10 percent for that to happen."
Despite a solid economy and relatively low unemployment, the local office market isn't likely to change much in 2018, said Kyle Yocum, senior associate with CBRE Ontario.
"Lease rates for Class A space are averaging about $2.30 a square foot, and I don't see that changing much either way," Yocum said. "I think downtown Riverside and the area around Ontario International Airport will still be the strongest markets, along with the Trti-City area in San Bernardino. I think we'll see some activity there."