Brown signs bill that helps sidewalk vendors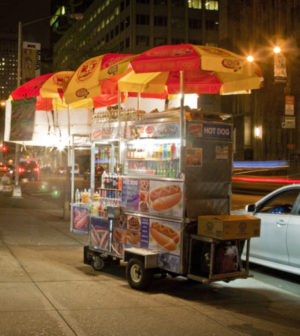 Gov. Jerry Brown has signed a bill that will make it easier for sidewalk vendors to operate in California.
The bill, which Brown signed Monday, prohibits criminal penalties for sidewalk sales of food and other goods, according to multiple reports.
Vendors will also be able to petition the courts to clear pending charges against them, and to have any past convictions dismissed retroactively.
The bill was proposed in February by State Sen Ricardo Lara , D- Bell Gardens.
It is scheduled to go into effect Jan. 1.
Cities may require sidewalk vendors to follow the same laws as other business, including having a business license and abiding by state tax laws. Any regulations regarding sidewalk vendors must involve health, safety and welfare concerns, according to the reports.
"With Senate Bill 946 we can start seeing sidewalk vendors for who they are – women and seniors, single parents, and micro-business owners taking that first step to starting their own business," Lara said in a press release. "Governor Brown's signature validates that thousands of sidewalk vendors are an important part of our economy."