Inland Empire homeless population rises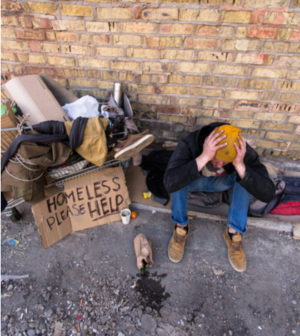 This year's Point-in-Time Count, conducted in January, showed substantial increases in Riverside and San Bernardino counties. Some new technology used for the first time this year might have caused a more accurate count than in past years, but the region still has a homeless problem.
Despite multiple efforts to reduce it, homelessness remains a serious problem in the Inland Empire, one that appears to be getting worse instead of better.
In Riverside County, the visible homeless population rose by 22 percent, to 2,811, between January 2018 and January of this year, according to the 2019 Point-In-Time Count.
The data was no better in San Bernardino County, where the homeless population grew by 23 percent year-over-year. Volunteers who took to the streets Jan. 24 were able to identify 2,607 people who had no permanent place to live.
The San Bernardino County volunteers also found that the number of homeless people in that jurisdiction 55 years old and older rose 71 percent between January 2018 and January 2019, and that nearly 19 percent of the adults surveyed this year were homeless for the first time.
Also, close to one-fourth of the homeless adults in San Bernardino County – about 450 people – were women without a companion, according to the survey.
In both surveys, the number of homeless included people living on the street or in shelters. An exact homeless population is difficult to calculate in any market, because a lot of homeless people live in places – canyons, riverbeds, under bridges – where they're difficult to locate.
"I was told the numbers would be up this year, so I wasn't surprised by the result," said Natalie Komuro, Riverside County's deputy executive officer for homeless solutions. "To be honest, I think they'll probably go up again next year, mostly because not enough houses are being built that people can afford."
The Point-in-Time Count is conducted on one night every January throughout the United States. It's done at the behest of the U.S. Department of Housing and Urban Development, which uses the data to help determine how federal funds can best be used to eliminate homelessness.
The Inland Empire isn't the only place where the homeless population went up. Los Angeles County's rose 39 percent and Orange County's increased 43 percent, so at least the Inland Empire is performing better than two of its neighboring counties.
What makes the increase disturbing is that a lot of cities, in the Inland Empire and elsewhere, have stepped up their efforts in the last several years to end homelessness. Last month, Gov. Gavin Newsom met with the San Bernardino County Board of Supervisors to discuss what the county has done to eliminate homelessness and how it can improve those efforts in the future.
Recommendations from that meeting included:
Develop an anti-homeless plan approved by San Bernardino County, its cities and the county's healthcare industry;
Increase countywide the number of permanent housing units for homeless people and agree on how many units need to be developed based on data gathered in the Point-in-Time Count;
Identify in each jurisdiction the "most vulnerable and frail" persons who are living on streets, including those with life-threatening conditions;
Speed up the process of getting homeless people into a shelter.
In 2007, San Bernardino County formed the San Bernardino County Homeless Partnership. That program helped house nearly 1,100 homeless veterans as of July 2016, and since January 2017 it had assisted 191 chronically homeless people with mental health issues, according to the board of supervisors.
There are several possible reasons for the year-over-year increase in homelessness, starting with what has been called by some the most severe problem facing California today: not enough single-family homes are being built that middle-class people can afford.
Another possibility is the way the Point-In Time Count was conducted this year. In the past volunteers went out on the streets with paper and clipboards, gathering information any way they could.
But 2019 was the year the Point-in-Time-Count went high-tech. Volunteers this year were armed with iphones equipped with mobile web-based technology provided Esri in Redlands that made it easier to ask questions break down data.
That, along with more volunteers – Riverside County reportedly went from 486 volunteers last year to 747 volunteers this year- made for a more precise count that found more homeless people.
"I think it was a more accurate count than it has been in the past, but I was still a little surprised that the number of homeless people [in San Bernardino County] went up," said Eric Gavin, Fontana's homeless coordinator. "I think the one thing you learn from the Point-In-Time Count is that homelessness is a state problem, it's a local problem, it's a national problem. Homelessness is a problem everywhere."