Device would make it easier, and safer, to treat patients with serious viral diseases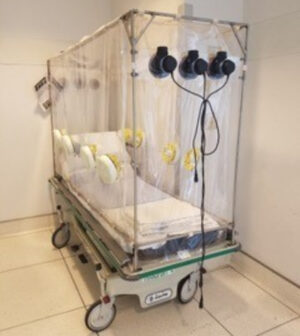 AR Tech Fontana
Two local manufacturers and a physician are trying to get federal government approval of the Patient Isolation Unit, which has its origin in the Ebola virus outbreak of several years ago.
Two Inland Empire manufacturers and a physician have developed a see-through protective enclosure that allows doctors and nurses to treat patients infected with a viral disease, including the potentially fatal COVID-19.
The Patient Isolation Transportation Unit, which is being reviewed by the federal Food & Drug Administration, also makes it easier for the patient because it provides more room to move, said Dr. Mark E. Comunale, head of anesthesiology at Arrowhead Regional Medical Center and the device's designer.
"It's intended to help anyone who has any infectious disease," said Comunale, who holds the patent on the device. "It's easier to move the patient, and it allows the patient to have visitors, comfortably, in ICU."
Industrus Inc. in Riverside, which provides sewing services for cut-and-sewn consumer products, is building the device at a cost of approximately $10,000 each, said Chad Miller, founder and president of that company.
AR Tech, an aerospace and medical equipment manufacturer in Fontana, has been hired to oversee the project and shepherd it to its conclusion, which all three parties hope will mean thousands of PITU's in hospitals throughout California, and ultimately the United States.
All three also believe they can start making the devices in time for hospitals to use them in the fight against the Coronavirus.
Comumale said his attorney is dealing with the FDA. Unlike most government agencies, the FDA seems to be in a hurry to get the PITU on the market as soon as possible.
"They'e asking us questions about when we can have it ready," said Comunale, who is affiliated with several hospitals in the Inland Empire. "We're getting the feeling that they're interested in what we're doing."
Industrus is revamping part of its operation to mass produce PITU, and it could be capable of producing 75 PITU's a day in about two months if the FDA signs off on the project soon, according to Miller.
"You can't believe how hard we've been working," Miller said. "We're working on it day and night and on the weekends. We even worked on Easter. I haven't been getting much sleep lately."
AR Tech announced March 23 that PITU was ready for production and pre-order, even though it lacked FDA approval. In a statement, AR Tech declared that PITU "will be made with FDA medical-grade flame retardant vinyl, and is composed of motors and filters which prevent contagious viruses from and bacteria during transportation."
The statement goes on to say that PITU adapts to almost any hospital gurney, and that it allows for protected contact with patients through gloves that extend into the protective unit.
During the Ebola virus incident in 2014-2016, Comunale began working on a more advanced device to protect people with a viral disease, one that would make it easier for doctors and nurses to provide treatment while providing better protection for visitors.
Comunale's PITU is designed primarily to prevent healthcare workers from being exposed to a virus, according to a five-page statement released by AR Tech.
All three motors draw fresh air from outside the enclosure. The exhaust air passes through three filters that remove virus particles and bacteria, which protects anyone on the outside.
"Drawing air from outside creates a negative pressure, which protects everyone on the outside," Comunale said. "Most devices are designed to protect the patient, but this one is more the other way around."
Doctors and nurses also don't have to use an anteroom before and after treatment, as they often do when treating an infected patient, Comunale said.
The device is also better for the patient, because the person inside fully protected. They're able to lie down, sit up, read, watch television or anything else done a regular hospital bed or gurney.
Weisbart, whose primary company, A&R Tarpaulins Inc., makes truck tarps, awnings and canopies for the aerospace industry, agreed that the FDA appears interested in getting PITU on the market, mostly because of the urgency created by the COVID-19 pandemic.
"The ball is in their court now, but I can tell you that they've been very responsive," Weisbart said. "They're asking a lot of follow-up questions. We're just waiting to hear from them."
Making a new product is never easy, but Industrus is in good position to manufacture PITU, according to Weisbart.
"Everything is difficult until you've done it, but once you've done it it becomes easier," Weisbart said. "When we get the process up and running, we expect to be operating three shifts."