Moreno Valley to hold State of City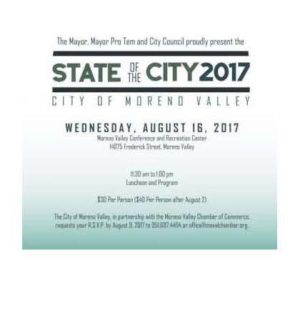 Moreno Valley is scheduled to hold its annual State of the City event at 11:30 a.m. Aug. 16 at the Conference and Recreation Center on 14075 Frederick St.
Residents, business leaders and local dignitaries will gather to hear about the city's successes during the past year and its plans for the futures, according to a statement.
Those successes include being named the third-most fiscally strong city in the nation by the Fiscal Times, passing a balanced budget for the sixth consecutive year and maintaining a high level of services for residents.
Moreno Valley has also increased the number of code compliance officers by 33 percent to help keep the city attractive. according to the statement.
Reservations can be made by calling the Moreno Valley Chamber of Commerce at (951) 697-4404 or by email at office@movalchamber.org.
Tickets for the State of the City Luncheon and Program are $40 per person.