New town manager for High Desert city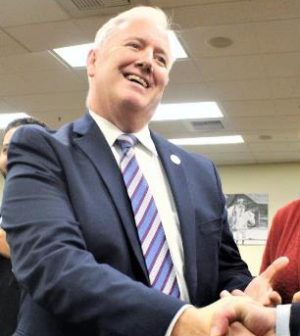 Starting next month, Apple Valley will have a new town manager.
Doug Robertson, currently Victorville's city manager, is scheduled to take over as Apple Valley's top administrator Jan. 2, according to a statement.
He will replace Frank Robinson, who retired in July.
Robertson, who has worked for San Bernardino and Cal State San Bernardino, will be Apple Valley's fourth permanent leader since the community incorporated in 1988, according to the statement.
While in Victorville, Robertson consolidated two independent water districts and negotiated a claim against the city by General Electric from a $122 million cost to a $10 million credit. He also got a $54 million settlement in favor of Victorville that stemmed from the unsuccessful Foxborough power plant.
"Mr. Robertson has an in-depth understanding of regional and local issues that directly affect our community," Mayor Scott Nassif said in the statement. "His demonstrated capacity to engage the public, build teams and ensure transparency will strengthen the town's ability to provide vital services our residents."
Robertson, who has lived in the High Desert for 25 years, was selected from a pool of nationwide candidates, according to the statement.