San Bernardino Auto Center to mark its pending renovation with a party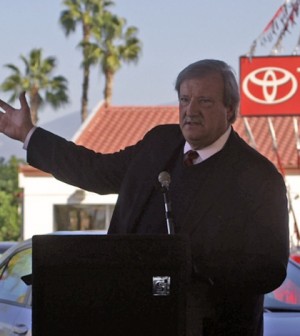 The facility next to Interstate 215 is about to get a new look after several former dealerships are demolished and the property is rearranged. City officials hope the project helps bring about a new pro-growth era in the city.
Next Jan. 22, the San Bernardino Auto Center is scheduled to hold a celebration.
The 60-acre facility next Interstate 215 is about to undergo a major overhaul, and Cliff Cummings, owner and operator of Toyota of San Bernardino and Subaru of San Bernardino, wants to mark the start of that effort with a major event.
"The city, which is badly in need of new businesses, is about to get 75,000 square feet of new [retail] buildings, so I think we should throw a little party," said Cummings, who announced the renovation and expansion plans last August.
So far, newly elected Mayor John Valdivia and the city council have been invited. That leaves Cummings a little more than one month to decide how the rest of the event – it's expected to run from 10 a.m. to noon – will shape up.

"It won't be a big deal, there won't be a marching band or anything like that, but we will do something," Cummings said. "It will be a gathering of eagles."
Cummings, who also owns a Toyota dealership in Indio, is preparing for an expansion and renovation that is expected to cost approximately $60 million and take two and a half years to complete.
His plans call for demolition of the former Scion dealership at 650 Auto Center Drive and the former Cadillac dealership 1406 Camino Real. Cummings owns both properties, which are across from one another and have been vacant for about six years.
After that, a new Toyota dealership will be built on the former Scion site, the former Cadillac site will become the Toyota parts and service department and the street between those two sites will be removed and replaced with a service road.
Finally, the current Toyota building at 765 Showcase Drive North will be taken down and replaced with Cummings' Subaru dealership.
Cummings also wants to attract a luxury automobile dealership to the auto mall- the closest ones to San Bernardino are in Cathedral City and Las Vegas, so the market is under served – but said he has not begun serious negotiations on that project.
All of the permits required for the demolition and construction have been secured except for one, from the South Coast Air Quality Management District.
Cummings has been selling cars in San Bernardino for more than 25 years. During that time, he's seen other agencies at the facility come and go: Cadillac, Chrysler, Isuzu, Jeep and Kia all disappeared from the auto center in 2008 after the Great Recession hit.
Cummings managed to survive the recession and the city's bankruptcy in 2008. Ten years into the economic recovery, he believes San Bernardino has turned a page.
After years of being a difficult place to conduct commerce, a pro-business attitude has swept over city hall, and Cummings says he wants to let the local business community know that San Bernardino, long known for gangs, crime and rundown neighborhoods, has become a good place to do business.

"I really want to to get the word out," Cummings said. "There has been a complete change of heart at San Bernardino City Hall regarding how they do business, and people need to know it."
If that message gets out, then businesses from outside the area will want to move or expand there, and many of the city's businesses will expand and prosper.
"It will be like an avalanche," Cummings said.
There's no better sign that San Bernardino has become business-friendly than a revitalized auto mall right next to Interstate 215, mayor-elect John Valdivia said.
"I think that the flagship of my administration is going to be that San Bernardino is open for business," said Valdivia, the current mayor pro tem who was elected to a four-year term as at-large mayor in November.
"We are now pro-growth and pro-business, and we're going to pursue businesses aggressively. Gone are the days when developers and business owners don't have their telephone calls returned or their emails answered."
San Bernardino city hall needs to become a "resource" for business, Valdivia said.
"We need to get rid of as much bureaucracy as we can so we can get projects approved quickly," Valdivia said. "We were able to do that with Cliff. He presented his plans and we made sure the door was open for him."
Automobile dealerships are major sales tax generators, and cities -which in California get a one percent sales tax – often make major concessions to get them, Inland economist John Husing said.
"They're the number one revenue source in a lot of places," Husing said.