Thousands of building industry representatives and advocates converged in San Diego recently for the Building Industry Show hosted by the Building Industry Association of Southern California (BIASC). The annual event featured products and services from all aspects of the building industry and, this year, a special focus on veterans housing was the topic of discussion during a special event aboard the USS Midway.
National CORE, one of the largest affordable housing builders in the nation, is a staunch supporter and advocate for veterans housing and served as presenting sponsor for the event. National CORE Director of Resident Services and Permanent Supportive Housing AJ Galka, spoke about the subject before introducing the featured speaker, Medal of Honor recipient and veterans advocate, retired U.S. Marine Corps. Sgt. Dakota Meyer.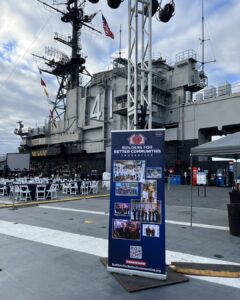 "This was a fantastic event the BIA put together as part of their annual show," National CORE President Michael Ruane said. "We were delighted to be the presenting sponsor for the event as it fits perfectly with our focus on highlighting the needs of veterans for housing and supportive services."
The message from National CORE was that although much is being done to assist veterans with their needs, so much more needs to be done.
"We were very pleased to have National CORE, a company that is focused on the needs of veterans, take a leading role in this event," said Carlos Rodriguez, Chief Policy Officer for BIASC.  "As an organization we share their commitment to those that have served our great country through a variety of programs and remain focused on helping veterans by advocating for better public policy to increase construction and access to quality housing."
In 2022, National CORE, in partnership with the BIASC, created a white paper advocating for flexible housing benefits for veterans that would deliver more housing and services for vulnerable veterans faster. The paper highlights that nearly 40,000 veterans are without shelter in the U.S. on any given night and lists the leading causes of homelessness among vets as PTSD, social isolation, unemployment and substance abuse.
The paper further mentions systemic problems that have led to inefficiencies, such as the number of Section 8 Veterans Affairs Supportive Housing (VASH) vouchers that go unused because of cumbersome restrictions and the failure of the VA to identify qualified voucher holders. It also states that there should be more focus on the first year after service members leave military service when veterans are trying to find employment, affordable housing, and service to help them address personal challenges related to the transition.
"It is National CORE's wish that policymakers and industry leaders will join us in advocating for a Flexible Housing Benefit for veterans. Under our proposal, veterans would receive a flexible housing benefit for up to two years after leaving military service if they enroll in an education or trade school program. This would help veterans secure much-needed financial resources as they pursue educational or vocational training, ensuring stability and housing while helping facilitate access to all the VA benefits and services available."
Also, during the event, National CORE filmed an interview with Meyer for its Finding Your Inspiration podcast, a National CORE Production. In the episode, Meyer shares stories and advice with U.S. Navy vet and National CORE resident Paul Tully. Meyer has said that the best way to honor the selfless service of our enlisted personnel and veterans is by living your best life. Don't miss this inspiring episode at www.youtube/@findingyourinspiration.