Despite the supply chain disruption, Omicron variant, and labor shortage, the Inland economy should do OK, but probably not great, in 2022. Much depends on whether the Federal Reserve decides to raise interest rates and if it does, by how much.
Some clouds are on the horizon – creeping inflation, a possible recession, another round of pandemic caused by the Omicron variant – but despite all of that, the Inland Empire economy remains in good shape heading into 2022.
During the first half of 2022, the Inland region's business activity is expected to grow three to six percent, according to the UC Riverside School of Business Center for Economic Forecasting and Development.
The Inland Empire Business Activity Index, published by the forecasting center in early December, predicted that business activity in Riverside and San Bernardino counties would be back to pre-pandemic levels by the end of the month.
Business activity in Riverside and San Bernardino counties grew by 4.5 percent in the third quarter of 2021 compared to a 2.1 percent growth rate in the U.S. gross domestic product during the same period, the index reported.
Four-point five percent was a decline – from eight percent growth in the first quarter and seven percent growth in the third quarter – but that move downwards was predictable and not cause for alarm, said Taner Osman, research manager at the forecasting center.
"This slowdown is to be expected as we move closer to pre-pandemic conditions with respect to economic output," Osman said in a statement. "The bigger issue for the coming year is likely to be the labor market, which still has some way to go before reaching pre-COVID levels."
The index predicts a "muting" of the pandemic this year, with fewer business closures because of COVID-19.
California's "notoriously expensive" housing costs, more than the pandemic, will have a negative impact on the state's labor supply, according to Osman.
Inland Empire home prices, although cheaper than some submarkets, remain high, and that will add to labor supply issues and restrain growth in the workforce, Osman said.
Another end-of-the-year report is optimistic regarding the Inland economy in 2022.
The two-county region's gross domestic product is approximately $211 billion, and it has recovered more jobs than any other Southern California submarket since the pandemic hit nearly two years ago, according to a report released last month by the UCLA Anderson School of Management.
"I don't believe the inflation we're looking at now is that serious, and what inflation there is I think will be gone during the first quarter of 2022," said Robert Kleinhenz, a Long Beach economic consultant whose territory includes the Inland region. "The supply chain problem could be around for a while, and there's a labor shortage that has to be fixed, but the region's demographics are still strong."
Overall, the Inland economy should perform a little bit better in 2022 than it did in 2021, Kleinhenz predicted: there should be some job growth, incomes should stay up and the housing market should perform reasonably well even though it will still be constrained by not enough supply.
But not everyone shares those positive feelings regarding the Inland economy heading into 2022.
"I think the economy in 2022 is going to be choppy, and that will hurt the Inland Empire like it will hurt everywhere else," said Jay Prag, professor of economics at the Drucker School of Management at Claremont Graduate University. "So I'm not as optimistic as some other people. I think there's more down than there is up in the economy right now."
Interest rates will go up in 2022, perhaps by as much as four to six percent, and that would hurt the Inland housing market, the housing being one of the first sectors to get hurt when interest rates go up.
"It wouldn't just hurt the housing market, it will hurt the entire [Inland] economy," Prag said. "And it's going to happen, mostly because of inflation, which we're now dealing with for the first time in a long time."
In mid-December, a majority of the Federal Open Market Committee – the Federal Reserve Board panel that sets monetary policy – predicted that interest rates will go up in 2022. Some said they expect as many as three increases in the next 12 months, according to CNBC.
A four to six percent interest rate increase next year would be more than enough to slow the entire U.S. economy, Prag said.
"The economic model for inflation never changes," Prag said. "To get rid of it you have to slow the economy down, and the best way to do that is to raise interest rates. The Federal Reserve won't have any choice.
"It just depends on how much inflation it's willing to tolerate.
Prag also predicts an "uneven" job market during the next year, and he fears what the Omicron variant of the Coronavirus, might do to the economy.
"We were still recovering from the first wave and now we have this problem," Prag said. "We didn't need any more bad news, but we got it."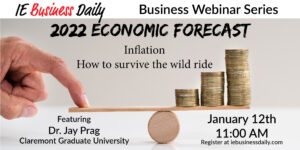 Join Dr. Jay Prag for the 2022 Economic Forecast. "Inflation: How to survive the wild ride" on January 12. Part of IE Business Daily's Business Webinar Series. Register now.