BB&K attorney receives award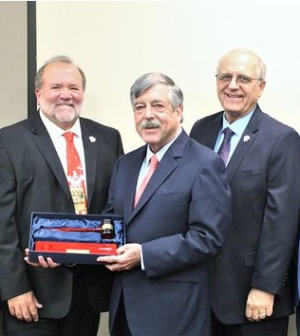 Attorney John Brown, a partner with Best, Best & Krieger Riverside, was recently named the 2019 Ronald M. George Public Lawyer of the Year by the California Lawyers Association's Public Law Section.
The award, presented by California Supreme Court Justice Joshua Groban, is given to an attorney who has shown a commitment to public service throughout his career, according to a statement.
A lawyer for more than 40 years, Brown landed his first city attorney position with Desert Hot Springs in 1976, a position he held for 10 years. He  then served as city attorney to nearly two dozen municipalities, including Ontario, San Jacinto, Perris, La Habra Heights and Apple Valley.
Brown has also represented numerous redevelopment agencies, helped school districts with design-build projects and served as a bond counsel and special district counsel. He has been general counsel to the Elsinore Valley Municipal Water District for more than 40 years, according to the statement.