Bike program connects destination points in downtown Riverside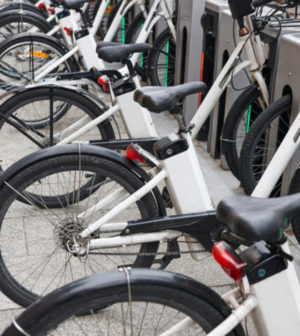 Bike Riverside, which began earlier this month, will help reduce pollution and traffic congestion over time, city officials say.
Riverside's latest effort to improve its downtown traffic flow isn't high tech. It's an invention called the bicycle.
Earlier this month, city officials launched Bike Riverside, the first bicycle sharing operation of its kind in the Inland Empire. Anyone who visits downtown now has access to 55 electric pedal bikes that are ideal for short trips in and around downtown.
The two-year pilot program, which has been in the works since 2014, will provide a mode of transportation that is affordable, easy to use and good for the environment, said Nathan Mustafa, Riverside's principal traffic engineer.
Most of all, it will give people another option when they want to reach downtown landmarks like the Riverside County Courthouse, the Mission Inn, Riverside City College or the recently opened Food Lab.
"It's meant for everyone, but it's really aimed at people who otherwise would never use a bike," Mustafa said. "We're hoping the electric pedals make it easier for people. So far, we've been getting a lot of good feedback."
Bike Riverside participants may purchase a 45-minute trip for $2, a $6 day pass or a $20 monthly pass. Users may sign up on the website, bikeriverside.org, use a mobile phone app or pay at the kiosk when they pick up their bike.
The program's service area has nine stations, including Judicial Plaza at Main and 11th streets, Riverside City College at Magnolia Avenue and Terracina Drive and the Fox Plaza Station at Market and Sixth streets.
Cost of the project is approximately $334,000, with funding coming from federal, state and local agencies, said John Standiford, deputy executive director of the Riverside County Transportation Commission.
During a ribbon cutting ceremony Nov. 2, Mayor Rusty Bailey called Bike Riverside "a truly proud moment" that will, in addition to helping the environment, also give a boost to downtown businesses.
"We know that pedestrian and bike traffic are major sales drivers for small businesses, and we look forward to seeing local residents, tourists and conventioneers using the bikes to visit shops, restaurants and museums," Bailey said in a statement.
Participants in bike sharing pick up a bicycle at a service station and return it to any station in the service area. The practice, ideal for quick trips, began in Europe in the 1960s but has recently gained popularity in North America.
Since 2010, an estimated 123 billion bike share trips have taken place in the United States, including 35 million last year, according to the National Association of City Transportation Officials.
That was a 25 percent increase compared with 2016.
Also in 2017, the number of bicycles used in bike share programs in the United States more than doubled, from 42,500 bikes at the end of 2016 to about 100,000 bikes by the end of 2017, the association reported.
Today there are about 100 municipal bike share programs nationwide, with electric bicycles like the ones used in Riverside helping to fuel their popularity. Also, as traffic has become a more serious problem in urban areas, municipal governments have become more receptive to non-conventional ways to fix that problem.
Also, bike sharing programs are often a public-private partnership, which makes it attractive to municipal  governments because that arrangement isn't as expensive as the government implementing a program by itself.
The Coachella Valley Association of Governments – CVAG – is installing CV Link, a $100 million project that will link eight Coachella Valley cities and two Native American reservations.
Although not a bike sharing program, CV Link will provide Coachella Valley residents with about 50 miles of paths that can be used by bike riders, golf carts and other electric vehicles, as well as joggers and walkers.
"Bike share programs do two things local governments are always trying to do," said Erica Felci, governmental projects manager for the Coachella Valley Association of Governments. "They makes the air cleaner by reducing pollutants, and they get people out of their cars, which cuts traffic and reduces accidents."
Making it easier for people to get around on bikes generates a lot of benefits, although those benefits aren't necessarily evident right away, said Marven Norman, executive director of the Inland Empire Biking Alliance.
"I don't think it will cut traffic congestion in downtown Riverside in half right away, but it will help over time," said Norman, whose Redlands-based nonprofit agency helps promote projects like Bike Riverside and CV Link.
Other Inland cities might come up with programs similar to Bike Riverside Norman said.
"I've heard other places are working on similar projects, and I hope that's true," Norman said. "The ideal would be a regional system, but we don't have the capacity to do that yet."