Cal Baptist holds multiple commencements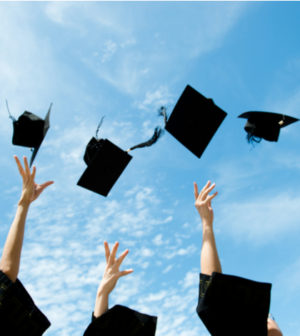 California Baptist University held four commencement ceremonies on April 30 and May 1 that attracted an estimated 12,000 people.
The spring graduation ceremonies on the Riverside campus featured seven individuals receiving doctoral degrees, 537 receiving master's degrees and 934 receiving undergraduate degrees, according to a statement.
"Graduates, you have faced many difficulties and yet you persevered," California Baptists President Ronald R. Ellis said during the ceremony. "We congratulate each one of you. The faculty and the entire university family join me in saying we are proud of you and we pray God's blessing upon you."
The university recognized several students for outstanding achievement during their time at California Baptist.
Indonesia native Alexis Ohmar received the Min Sung Kim International Student Award, which recognizes outstanding contributions to the California Baptist community by a student from outside the United States.
Rebekah Bernal received the 2019 Outstanding Senior Award. Bernal earned a bachelor's degree in biochemistry and molecular biology with a 4.0 grade point average.
Jose Macias, an early childhood studies student in the Division of Online and Professional Studies, earned that sector's Student of the Year award. Macias is also graduating with a 4.0 grade point average.
This year's graduating class of 2,581 students is California Baptist's largest graduating class ever, according to the statement.