FedEx Express to operate out of SBIA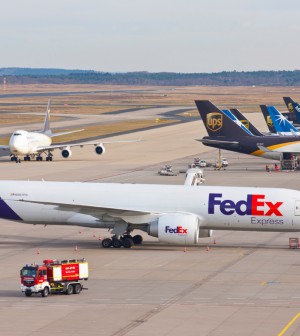 FedEx Express will begin operating cargo flights into San Bernardino International Airport.
The daily flights are scheduled to begin in October, the San Bernardino International Airport Authority and FedEx Express announced in a statement.
The agreement between the two parties is for 10 years. Terms were not released, although the statement did say that "dozens of jobs" will be added as a result of the agreement.
FedEx Express, a subsidiary of FedEx Corp., is the largest express transportation company in the world. Its fleet of 670 aircraft serves 220 countries and territories.
"We are very excited to have FedEx expand [its] flight operations into San Bernardino International Airport,"  San Bernardino Mayor Carey Davis said in the statement. "The airport continues to serve as a major contributor to the economic growth in San Bernardino."
FedEx Express will occupy a 57,000-square-foot facility at the airport, according to the statement.
Last month, the Ontario International Airport Authority announced it had reached a 30-year lease with FedEx Express.
That agreement requires FedEx Express, which has operated at Ontario International for 31 years, to move to a larger operation in the northwest part of the airport. That move is expected to happen in two years.