IE manufacturing rolls along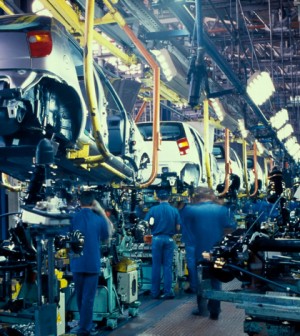 Inland Empire manufacturing increased slightly during September, the 21st consecutive month that sector has expanded, according to data released Monday.
The region's purchasing managers index was 56.3, up from 54.5 in August, the Institute of Applied Research and Policy Analysis at Cal State San Bernardino reported.
Fifty or above means manufacturing is expanding, below 50 mean's its getting smaller. The two-county region's record for consecutive months of 50 or better is 29 months, which it recorded from December 1995 through April 1998.
Also during September, production fell slightly, the new orders index went from 50 to 55 and inventory rose from 51.7 to 63.3.  Employment was unchanged, and supply deliveries fell from 63.8 in August to 58.3 in September.
Forty three percent of the purchasing managers surveyed said they expect the local economy to get stronger during the next three months, while 50 percent said they expect to stay the same. Seven percent they expect the local economy to get weaker during that time, according to the index.
Last month, those numbers were 31 percent, 58 percent and 11 percent.