Mag Instrument helps local charity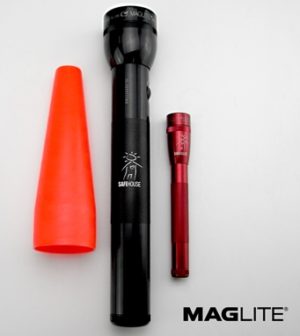 A local nonprofit that helps homeless youth got an assist Tuesday from one of the Inland Empire's largest manufacturing companies.
Mag Instrument Inc., the Ontario company that manufactures the high-end Maglite flashlights used by law enforcement and the military, donated 64 small and large flashlights to SafeHouse, which operates transitional housing and emergency facilities in Riverside and Thousand Palms.
The small lights are for shelter residents to use in emergencies. The larger lights, which have an orange cone attached to them for stronger illumination, will be used by SafeHouse field workers when they look for homeless youth on the streets.
"They do a lot of their work at night," said Kathy McAdara, SafeHouse's executive director.
Anthony Maglica, founder and owner of Mag Instrument, presented the flashlights to McAdara and Julie Hale, SafeHouse's resource development director, at Mag Instrument's headquarters.
"I don't understand why anyone in this country is homeless," Maglica said during a brief ceremony. "I think we need to do better."
SafeHouse, which gets its funding from public and private sources, will put the flashlights – all of which are engraved with the SafeHouse logo – to good use immediately.
"They will make things easier for our staff and for our people who are working on the streets looking for people to help," McAdara said.