New legislation will require California trucks to meet emission standards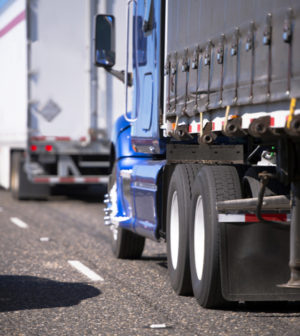 Senate Bill 210 will create a clean-air inspection program for trucks, much like the one that has been in place for automobiles for more than three decades.
Thirty five years after it placed environmental regulations on its automobiles to reduce air pollution, the state of California is about to do the same thing to its diesel trucks.
Gov. Gavin Newsom has approved Senate Bill 210, which established "smog check" requirements for heavy-duty diesel trucks. 
Newsom signed the bill, which was authored by State Sen. Connie Leyva, (D-Chino), on Sept. 20.
Called "Clean Trucks, Clean Air," the legislation orders the California Air Resources Board to work with several state agencies, including the Department of Motor Vehicles, to develop an inspection and maintenance program for trucks, according to a statement released by Leyva's  office.
The Inspection and Management Program would apply to trucks that weigh more than 14,000 pounds and use diesel fuel, not gasoline. It would establish tests for different vehicle model years, as well as technologies that would measure how well the emissions of particulate matter [PM]  and nitrous oxide [NOx], two of the primary causes of smog, are being controlled.
Trucks from outside of California will be subject to the new regulations, which will go into effect January 1, 2020.  Complying with the program may not cost more than $30 a year, according to the statement. 
SB 210 also requires the air resources board to develop licensing standards for repair shops, along with compliance certificates that truck drivers will be required to have with them when they're driving on the job.
Heavy-duty trucks account for approximately 60 percent of the harmful nitrogen emissions in California generated by mobile sources. An estimated 12 million residents statewide live in communities in which federal clean-air standards are not met.
Levya was not available for comment this week because of a family emergency. 
However, in the statement, she declared that SB 210 "will be a vital step" in cutting the pollution caused by heavy-duty trucks, in the Inland Empire and the rest of the state.
"Just as car owners have to get their cars 'smog checked' every two years, so too should truck operators be required to maintain their emissions controls," Leyva said in the statement. "[Then], we can ensure long lasting air quality improvements in California.
"With Governor Newsom's signature, SB 210 reinforces California's leadership on improving air quality and public health, while also leveling the playing field for law-abiding truck owners and operators in our state."
SB 210 will start as a pilot program, in which technologies will be developed that will bring trucks in line with the inspection program. The inspection program will be put in place no more than two years after the pilot program is completed.
Between 2023 and 2031, the SB 210's Inspection and Management Program will remove 93,000 tons of NOx and 1,600 tons of particulate matter, according to the air resources board.
In 1985, California began requiring smog checks of automobiles. That state lawmakers eventually decided to the same thing to trucks was probably the next logical step, Inland Empire economist John Husing said.
"We do it to our cars, so it's hard to argue that we shouldn't do it to our trucks," Husing said. "It will be interesting to see how the trucking companies, especially the out-of state companies, react to this. But they'll have to adjust to it and get certified.
Husing is a frequent critic of the state legislature and what he believes is its anti-business bias. Like a lot of people, Husing believes Sacramento piles too many regulations, especially environmental regulations, on state businesses, so his approval of SB 210 might surprise some people. 
But the primary organization that lobbies on behalf of the trucking industry – an organization that might be expected to oppose legislation that requires truck owners to pay a fee out of their own pocket to stay in business – agrees with him.
"Our position on SB 210 is that we're neutral," said Chris Shimoda, vice president of government affairs for the California Trucking Association a non-profit in Sacramento. "When they first started working on it, three years ago, we were against it because of the fee structure.  CARB was going to be allowed to charge unlimited fees in order to get compliance.
"But once they got it down to $30, we changed our position. At that point, we weren't for it or against it, and that's where we are now."
Elements of SB 210 must still be worked out, particularly how to bring out-of-state trucks in compliance the inspection program. About 10 percent of the heavy-duty trucks on the road in California – those registered here and those registered in another state – are not in compliance with California's clean air regulations, and those are the trucks SB 210 needs to target, Shimoda said.