New name for Ontario arena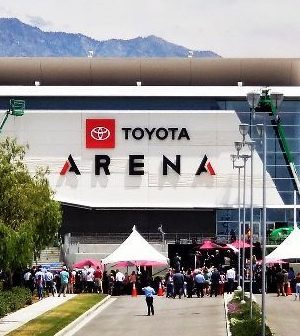 The Inland Empire's premiere entertainment and sports venue has a new name: Toyota Arena.
The Ontario facility known as Citizens Business Bank Arena since it opened in 2008 has entered into a 10-year naming rights agreement with the Southern California Toyota Dealership Association, officials announced during a gala celebration Tuesday.
About 300 people braved 95-degree heat to participate in the half-hour event, which was held in the parking lot below the building's main entrance. The highlight was the unveiling of the new name, which was hidden on the side of the building behind a large black cover.
"This is a great opportunity for us to gain more exposure in an extremely competitive market," said Cliff Cummings, owner of Toyota of San Bernardino and president of the 52-member dealership association, shortly after the ceremony ended. "We have good coverage in Los Angeles and we are excited to expand our presence in the Inland Empire to coincide with the tremendous volume we do here.".
Financial details of the agreement – which was approved by SMG Partners, the company that manages the arena – were not disclosed.
Whatever its name, the arena has become a player among entertainment venues. It's home to three minor league professional sports teams, hosts more than 300 events a year and a trade publication recently ranked it among the top arenas in the world among venues its size, said Michael Krouse, president and chief executive officer of the Ontario Convention Center and the Greater Ontario Convention & Visitors Bureau.
"Those are great marketing tools, but the most important thing is that we improve the experience of the people come here," Krouse said. "We feel like we've done that."